Well, it's that time of year again! That's right, your social media feeds are about to be flooded with pictures of horses all decked out in their holiday finery. And, every time you open your mailbox you are going to see holiday cards featuring holiday-accessorized horses. Are you wondering how to create great holiday pictures of your horse too?
Taking great holiday pictures of your horse can be tough. After all, horses are not props that just stand around and stay put where you put them. Here are some quick tips to help you to create some great holiday pictures of your horse and still come out with your mind intact.
Tip 1: Do the Work
Like any equine photoshoot, making sure your horse is super clean goes a long way to how your final images turn out. Make sure to give your horse a bath so that their coat will be clean and shiny in your photos.
Consider the things you usually do for a horse show – such as braiding, body clipping, and hoof polish. Decide if these will be important for your final image.
You can get a free checklist for making your equine photography session a success here.
Tip 2: Think about Props or Accessories
Decide if you want to incorporate any props or accessories into your picture. If you do, visit craft stores and thrift stores for props that can be utilized during your photoshoot.  And, don't forget to go through your own Christmas stash! I frequently use items I have stored away to decorate our house as props in photoshoots.
Consider different types of props. For example, do you want props that the horse wears, such as a pair of antlers? Or just props in the horse's environment, such as a wreath on the fence?
A horse's personality and temperament will play a big part in the type of props you want to use.  If your horse doesn't like wearing an ear bonnet, odds are he or she is not going to be happy about wearing antlers.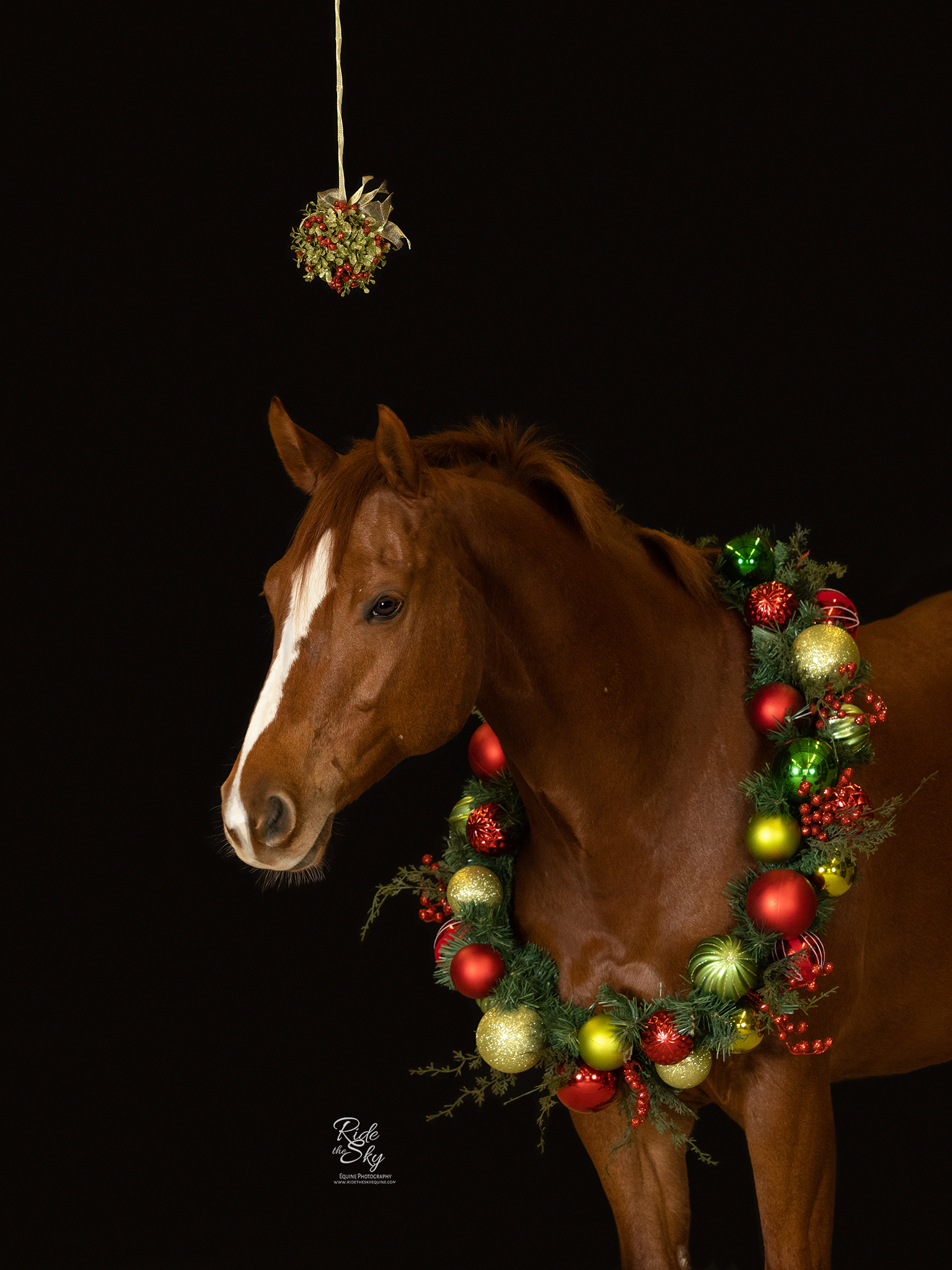 Tip 3: Practice Makes Perfect
This tip is one that can not be stressed enough.
If you want to put antlers on your horse, make sure that you do it several times before you actually want to take a photo of it. Otherwise, you and your horse are both going to end up frustrated.
Horses, like all animals, need time to adjust to something that is new or different. Giving them time to see that those antlers are no big deal will help the horse to be relaxed for your photo.
Tip 4: Have a Horse Buddy Help You
When taking pictures of your horse, it helps to have a friend who can help with holding the horse or helping keep the horse calm and expressive.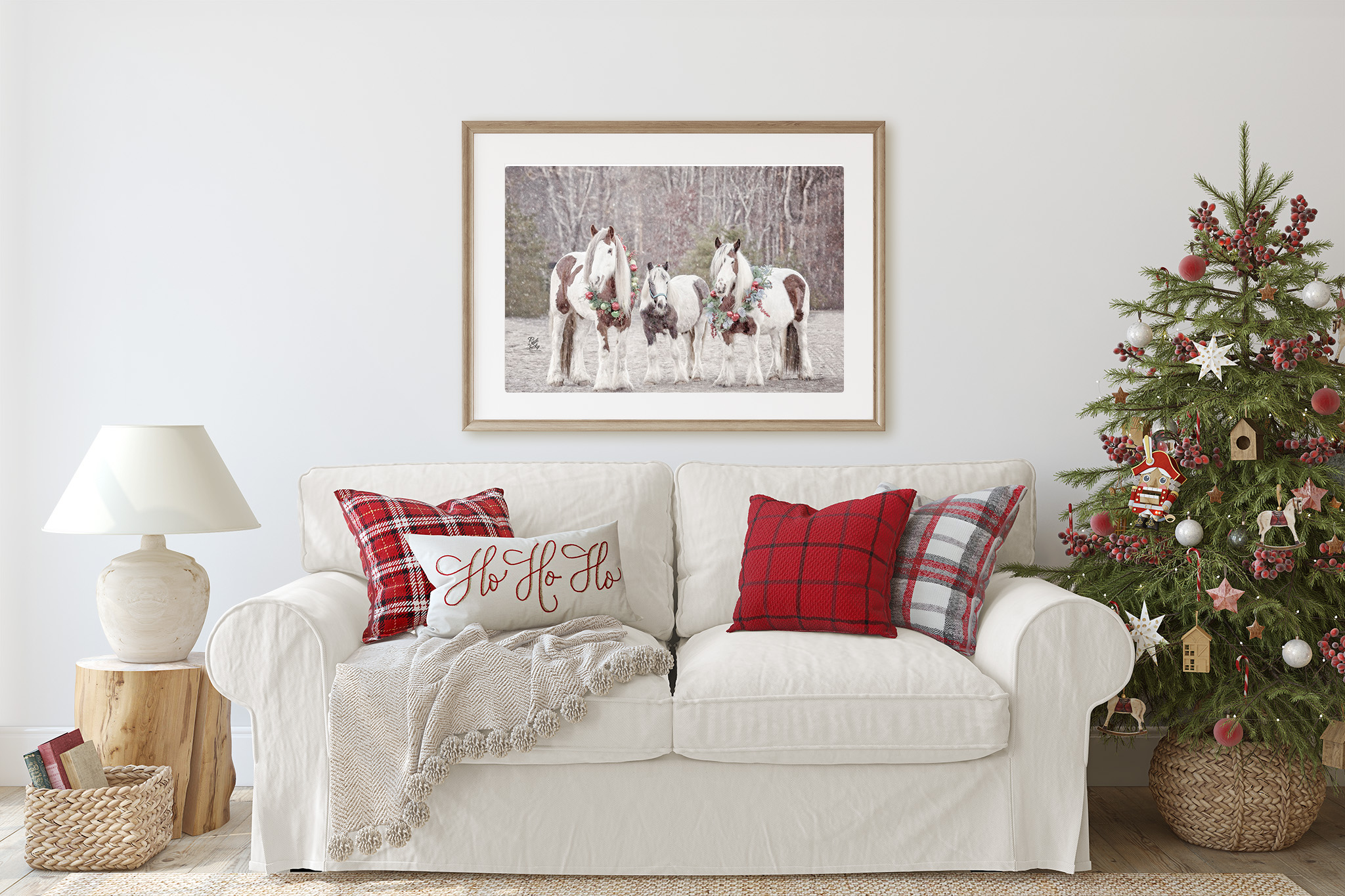 Tip 5: Notice Your Surroundings
You want your horse to be front and center in your image. After all the time you spent making your horse sparkling clean, you don't want people to be focused on something else in your picture.
So, make sure to remove anything distracting from the background or, if that's not possible, move your horse to an open area.
Tip 6: Hire a Professional
If you want to take your holiday image up a notch, consider hiring a professional equine photographer.
Sure, everyone has a cell phone in their pocket these days. But professional equine photographers have skills that go well beyond the camera itself.
They have extensive training for horse behavior and photography, an understanding of equine conformation, and the knowledge of how to make your horse look his or her best.
Professional horse photographers can turn an ok shot into a piece of art that you can enjoy for a lifetime.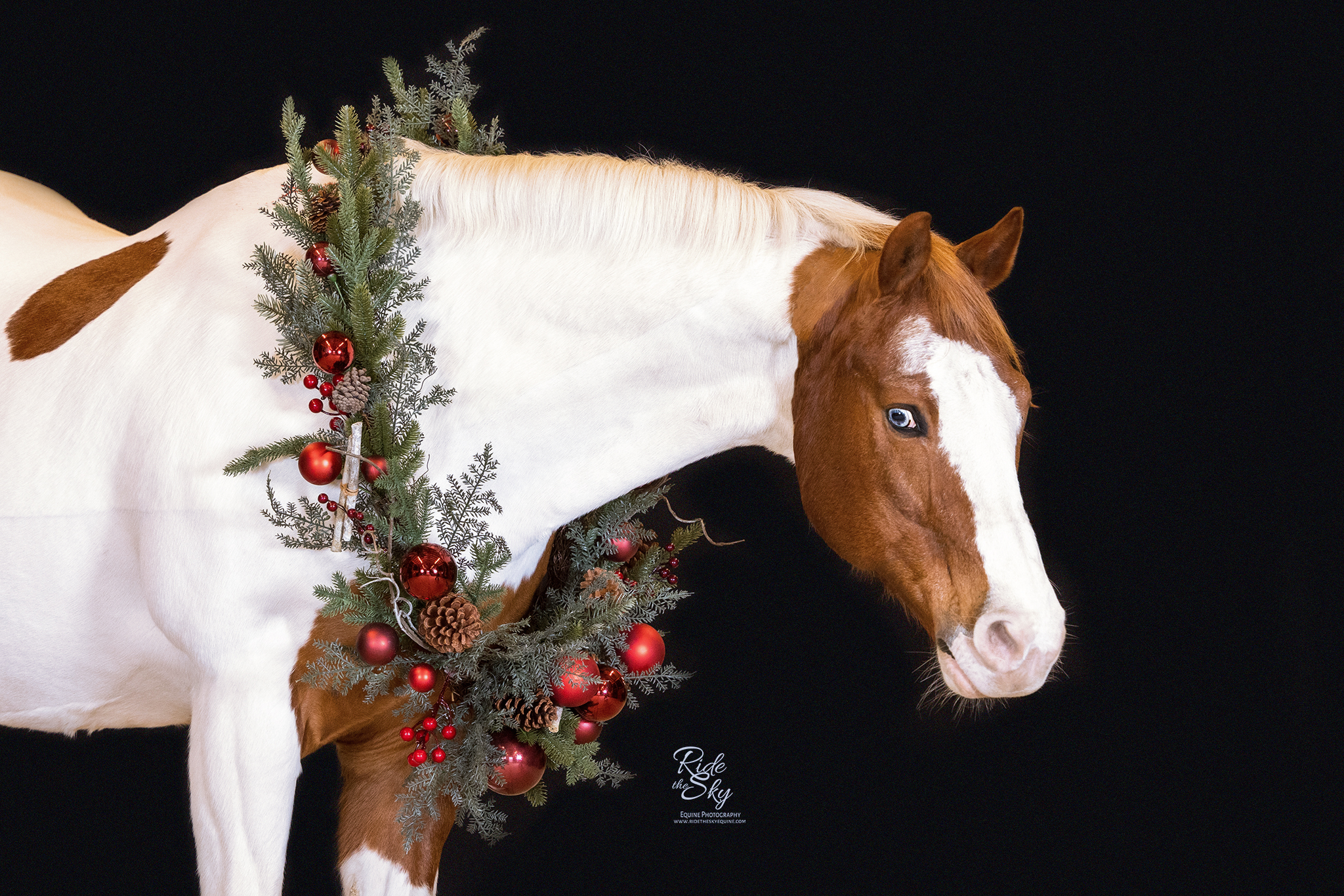 And there you have it. Six very simple tips for creating some great holiday pictures of your horse.
Ride the Sky Equine Photography is currently booking holiday sessions for 2022, yes, 2022! If you are interested in talking to Ride the Sky Equine Photography about creating some holiday pictures of your horse, send a message here.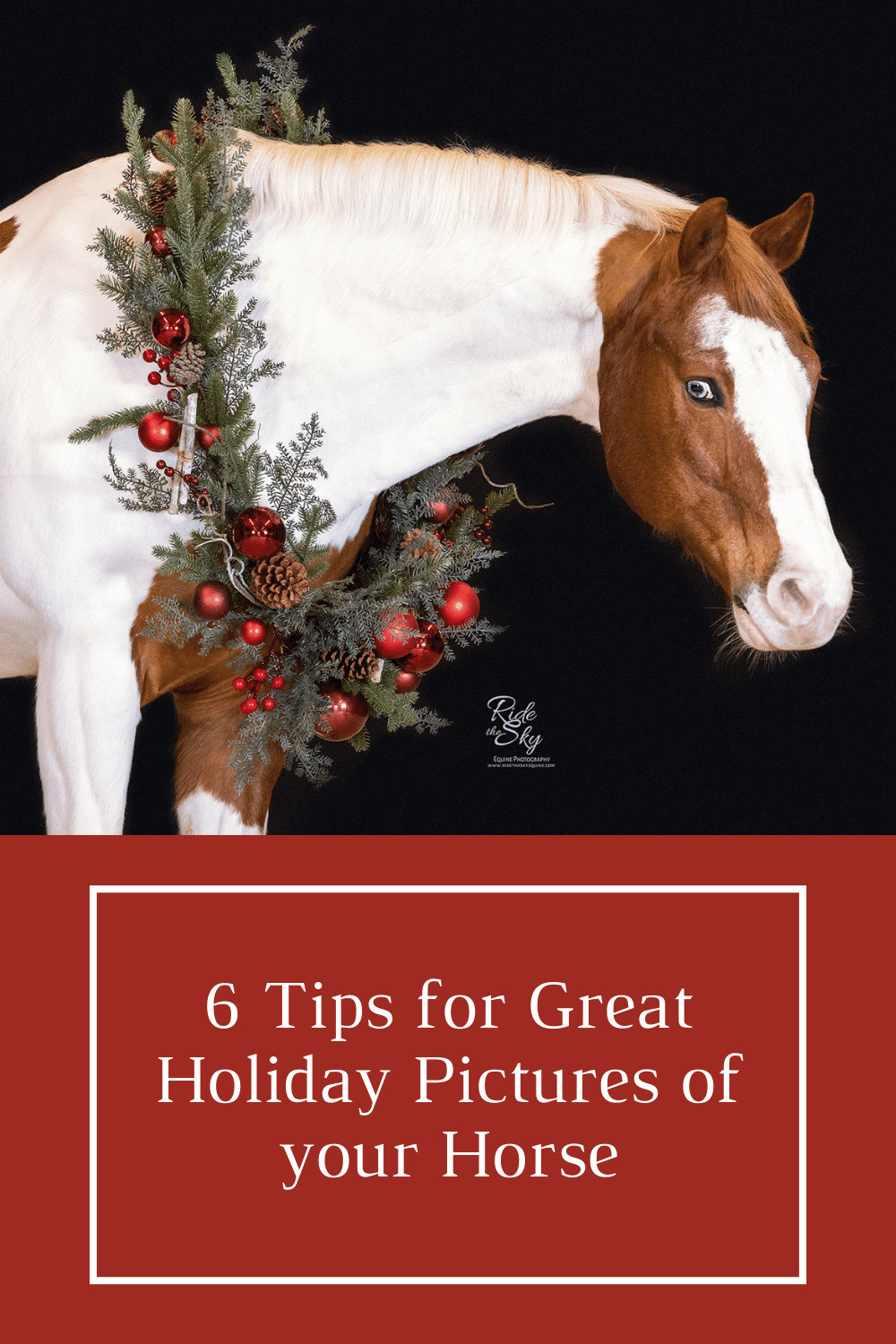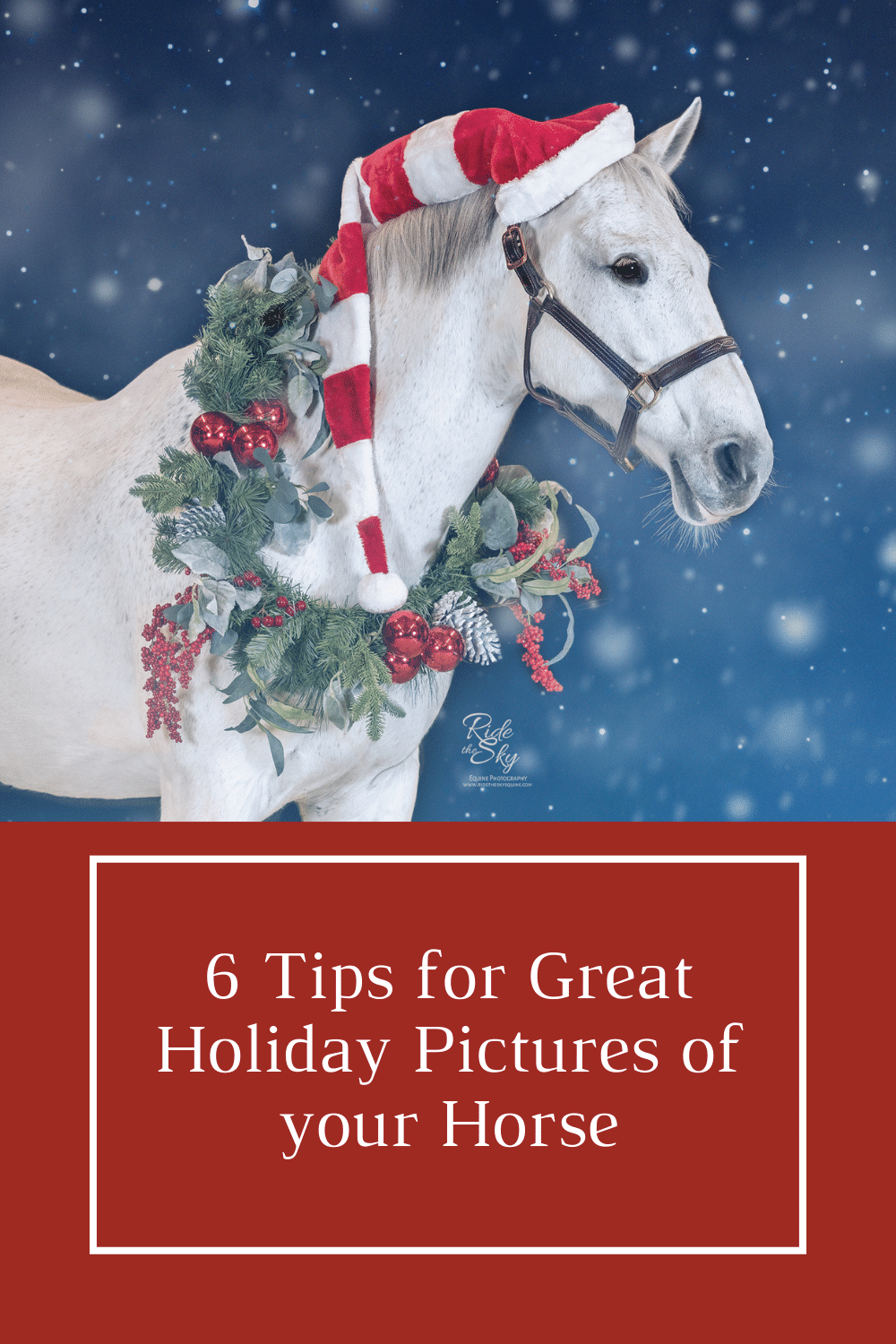 Betsy Bird of Ride the Sky Equine Photography spends her days doing insane things to make horses look at her. Clearly, she's desperate for attention. When she's not celebrating the stories of the amazing horses in her clients' lives, she invests time and energy into perfecting her equine photography skills and growing her business, hanging with her favorite rescue dog, Nitro, and planning her next big adventure. She also tries to spend some time educating and entertaining her fans and potential clients by blogging and posting on social media about whatever catches her fancy at the moment. 
Betsy is a Certified Professional Photographer (CPP) with the organization Professional Photographers of America (PPA). The CPP designation is held by fewer than 2,000 photographers nationwide and is a hallmark of consistency, technical skill, artistry, and professionalism. Ride the Sky specializes in on-location photography for equines. Ride the Sky also has the option of bringing the studio to the stable. Based in Chattanooga, TN, Ride the Sky Equine Photography works on location in Tennessee, North Georgia, and beyond.