It's important to feel ready and prepared for your equestrian senior photoshoot. Once I get to the barn, things start moving pretty quickly. A little advanced planning can make a huge difference to the end result. Here are 4 Quick Tips that can really make a difference in your equestrian senior portraits!
These tips all relate to you. But equestrians know that when horses are involved it's all about the horse. Am I right?
Don't worry, we have plenty of client information about how you can prep for a senior portrait session with your horse too.
But, for the moment, here are 4 quick tips that can make a big difference in your portraits!
Try on your clothes, shoes, and accessories in advance
This might sound like common sense but you would be surprised at how many people skip this simple step.
Maybe you have gained or lost some weight and your outfit of choice might fit differently than it did last summer. Or your favorite outfit has a stain on it you forgot about.
Make sure you can walk in your shoes without wobbling – especially if you are going to be walking on uneven ground in a field. You might need to consider bringing a pair of boots for walking from place to place and only wearing your photoshoot shoes when we are actually taking pictures.
And speaking of fields, if we are going to be out in the fields for your session, skip the high heels. Or consider opting for wedges so your heels don't get stuck in the dirt. 
When choosing your jewelry make sure it isn't going to get tangled in your hair or your horse's equipment.
Ride the Sky Clients: After you book your senior portrait session, you will receive detailed information about choosing outfits for your senior portraits, what looks camera-friendly, and more!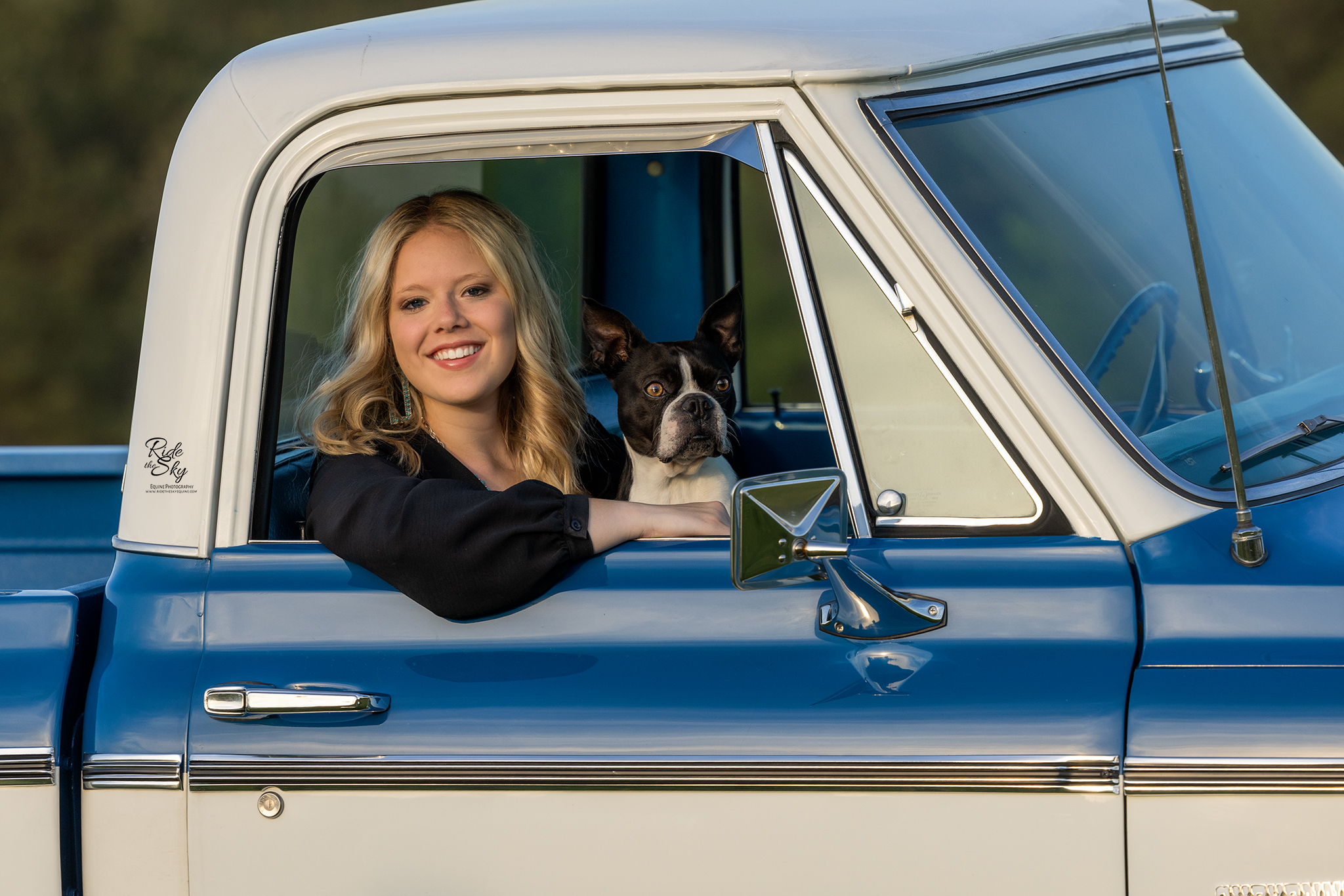 Hair and Makeup DIY
If you are planning on doing your own hair and makeup, do a trial run before your shoot. Here are a few tips on makeup for equestrian portraits.
Make sure to check your makeup OUTSIDE. What might look great under fluorescent light could look awful in the sun.  Make sure that you like how your makeup looks. After all, these are your senior portraits. You know that one day – far in the future – your kids or grandkids are going to want to see them.
Make notes on any changes you need to make before your equestrian senior portraits day.
If you are going to be riding your horse – and not just posing with him – make sure that whatever hairstyle you are planning is secure. It needs to look nice under any hat or helmet you will be wearing during your session.
Ride the Sky Clients: Want to take hair and makeup worries off your mind? Ride the Sky works with hair and makeup artists in the Chattanooga area that can handle it for you.
You Will Get Thirsty
As someone who has passed out more than a few times from heatstroke, I don't recommend it.
It's the south. It's hot and humid 85% of the time. You will get thirsty. Bring something to drink. 
Between outfit changes and working with animals who have minds of their own, shoots can run long.  
Ride the Sky Clients: I almost always have a cooler of water with me just in case you forget to bring something.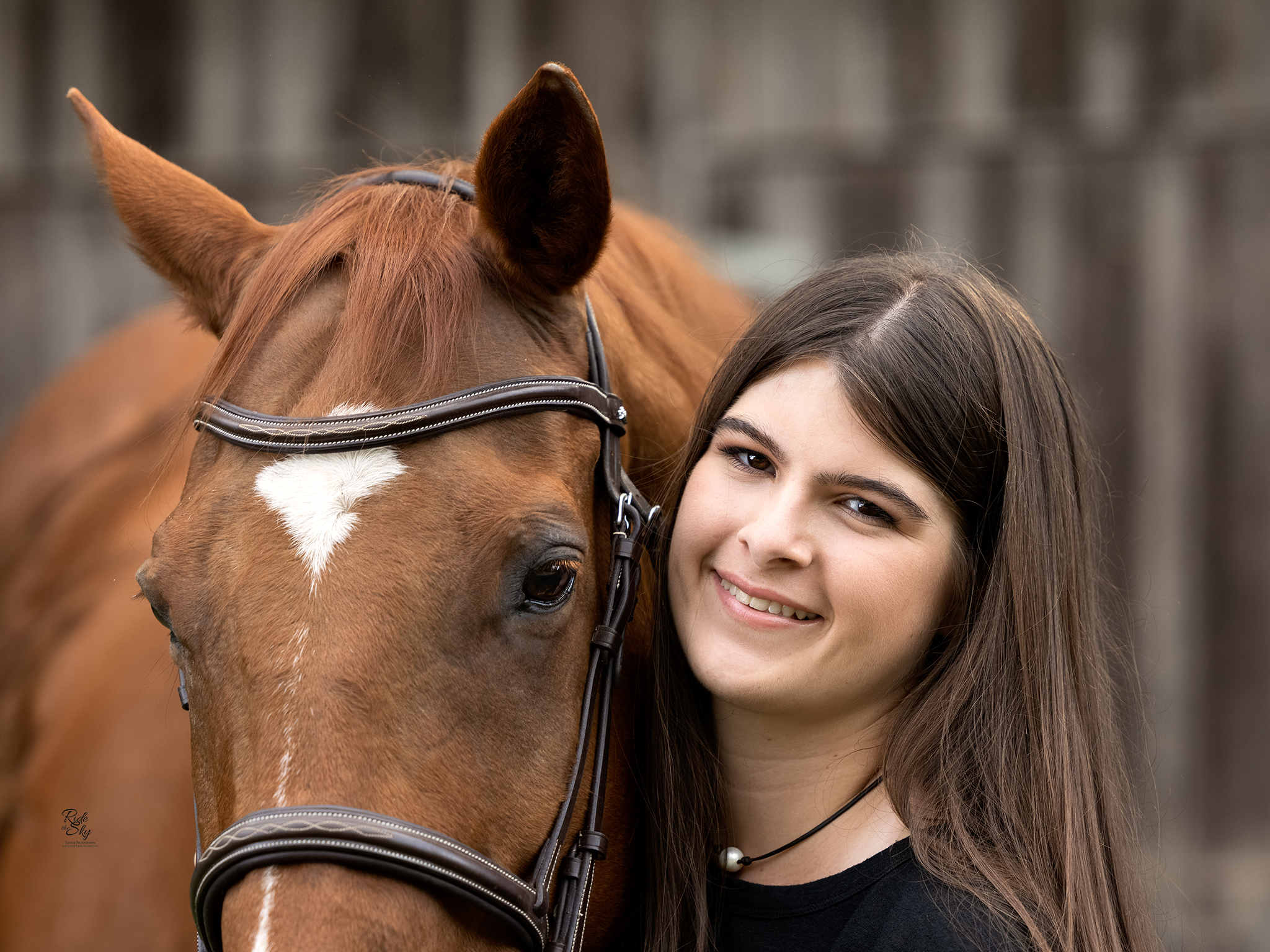 To Tan or Not to Tan
Any equestrian knows the joy of the "equestrian tan".  When choosing your outfits, remember to check how tan lines look.
If you are planning on using a self-tanner, make sure to test it out well in advance of your equestrian senior portraits. Know how to apply it for best results.
It needs to be non-streaky and very natural-looking. Too much tan or tanner that is not applied correctly can be super distracting in photos.
In Conclusion
I hope these quick tips help get you thinking about your equestrian senior portraits and how you want to look in them!
To learn more about Equestrian Senior Portraits, click here.
Ready to book an equestrian senior portrait session with Ride the Sky Equine Photography? Complete the form below.
Betsy Bird of Ride the Sky Equine Photography spends her days doing insane things to make horses look at her. Clearly, she's desperate for attention. When she's not celebrating the stories of the amazing horses in her clients' lives, she invests time and energy into perfecting her equine photography skills and growing her business, hanging with her favorite rescue dog, Nitro, and planning her next big adventure. She also tries to spend some time educating and entertaining her fans and potential clients by blogging and posting on social media about whatever catches her fancy at the moment. 
Betsy is a Certified Professional Photographer (CPP) with the organization Professional Photographers of America (PPA). The CPP designation is held by fewer than 2,000 photographers nationwide and is a hallmark of consistency, technical skill, artistry, and professionalism. Ride the Sky specializes in on-location photography for equines. Ride the Sky also has the option of bringing the studio to the stable. Based in Chattanooga, TN, Ride the Sky Equine Photography works on location in Tennessee, North Georgia, and beyond.