Hi, I'm Betsy.
I am a country girl living in the suburbs who is so lucky that I get to spend my days telling the stories of the amazing animals in my clients' lives that give them so much love.
As a photographer, I've been featured on the Equine Photographers Network and Hair of the Dog. You can also find me at the Professional Photographers of America Association and the Professional Photographers of East Tennessee.
When I am not busy out in the field doing insane things to make an animal look at me (What can I say? I'm clearly desperate for attention),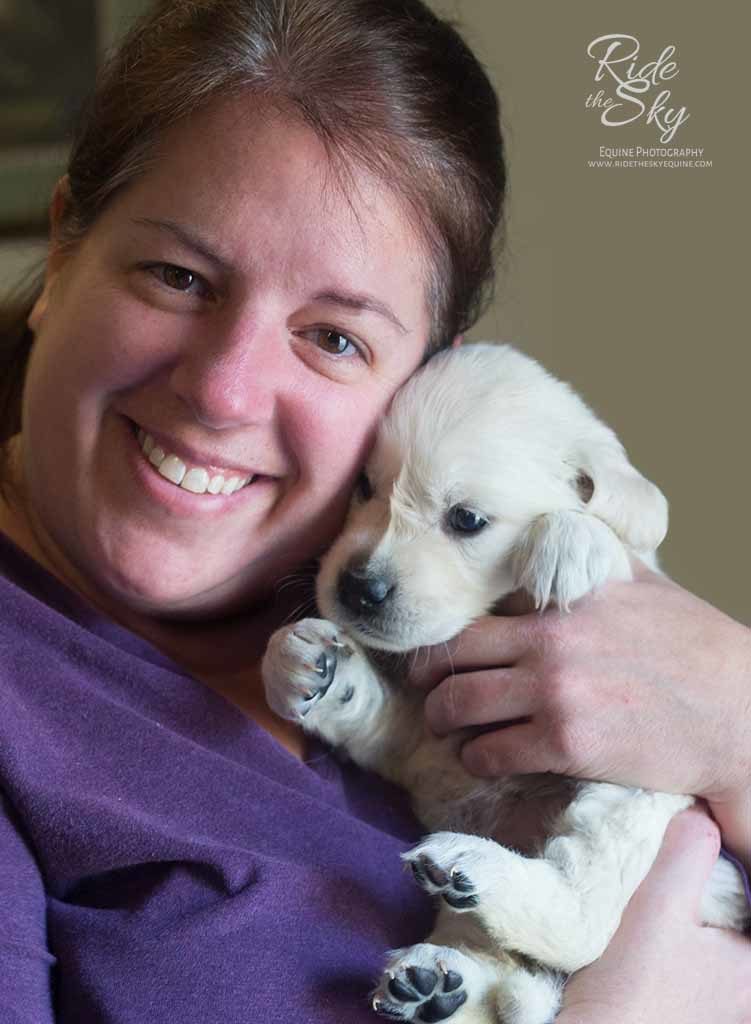 you can catch me on the couch snuggling with my rescue dog, Nitro, and laughing with my friends.
Additionally, you can frequently find me enjoying Margarita Mondays or planning my next big wheels-up adventure which never happens soon enough.
Want to know more?
If you're dying to hear more, here are seven things you might not know about me:
In high school, I won an 8-year-old Appaloosa mare in a statewide contest. Yes, seriously! And, it took over 6 hours to get her loaded on the trailer but that's a whole different story…
I am known for my sense of humor and truly believe that sarcasm should be recognized as an art form.
I'm very laid back and live in ripped jeans and oversized sweaters, no makeup, and Converse.
I grew up traveling and had been to 48 of the 50 states before the age of 12.
I'm an orange-cat-obsessed girl married to a guy with a severe cat allergy. Go figure!
I firmly believe that dark chocolate should be its own food group.
In high school, I won a statewide public speaking contest and competed in a national public speaking competition. My topic was "Artificial Insemination in Horses". To prepare for this, I practiced giving my talk everywhere – including at a Rotary Club breakfast meeting. So, believe me when I tell you that if you can discuss artificial insemination in horses with middle-aged men while they eat eggs and bacon, you can talk to ANYONE about ANYTHING.
Still here? Let's connect! Shoot me an email at betsy@ridetheskyequine.com or contact me here.
-Betsy
I love her images! She brings out the most beautiful side of every horse. I had the pleasure to have Betsy at our farm in Germany and she took the most wonderful images of my horses. She had a lot of creative ideas about locations and backgrounds. 
She is very professional with a lot of heart for her work! Best horse photographer out there!
Betsy has an extremely talented eye for amazing photographs. She is able to truly bring to life a still picture and capture the spirit, energy, and beauty of our beloved horses in that one moment. Betsy is a lovely lady who is very easy to work with and brings the very best out in her "models" using humor and patience. I would highly recommend her for anyone that wants a memorable treasure of their horse!!
Betsy is a wonderful photographer and really works with you and your horse to capture the best moments. Every picture I have received is absolutely stunning and gorgeous! Each picture is focused on the horse and rider and not the background. I highly recommend Ride the Sky Equine Photography for any equine and equestrian images you need! High quality professional images well worth the price!