Senior Pictures for Chattanooga Area Equestrians
Chattanooga, TN | Ringgold, GA | Dalton, GA | Hixson, TN | Signal Mountain, TN | Lookout Mountain, TN | Soddy-Daisy, TN | Cleveland, TN | Dalton, GA
Chattanooga Equestrian Senior Portraits aren't just about the photoshoot. They are about creating tangible memories of this time in your life and the beautiful horse who was by your side through it all.
High School or college graduation is the end of a momentous era of your life. Celebrate the culmination of your high school or college story with the one who saw it all.
The highs, the lows, the good days, the bad days. The struggles and the triumphs. The one whose neck you cried into when you flunked a test. The one who you couldn't wait to share your joy when you discovered you got an A in a tough class.
The one who allowed you to leave all your troubles on the barn floor as you galloped across the field or soared over those jumps.
A Chattanooga equestrian senior photography session is truly a celebration of these memories. Our goal is to make your experience as memorable as possible by customizing your session to suit you and your horse.
Years from now, as you look at your wall art, flip through your album or folio box, you will be instantly transported back to that moment, that feeling, and that amazing horse.
If you are a Chattanooga area equestrian looking to capture your senior pictures with your horse, you have come to the right place.
Read on to see how we can capture your memories in a one-of-a-kind experience.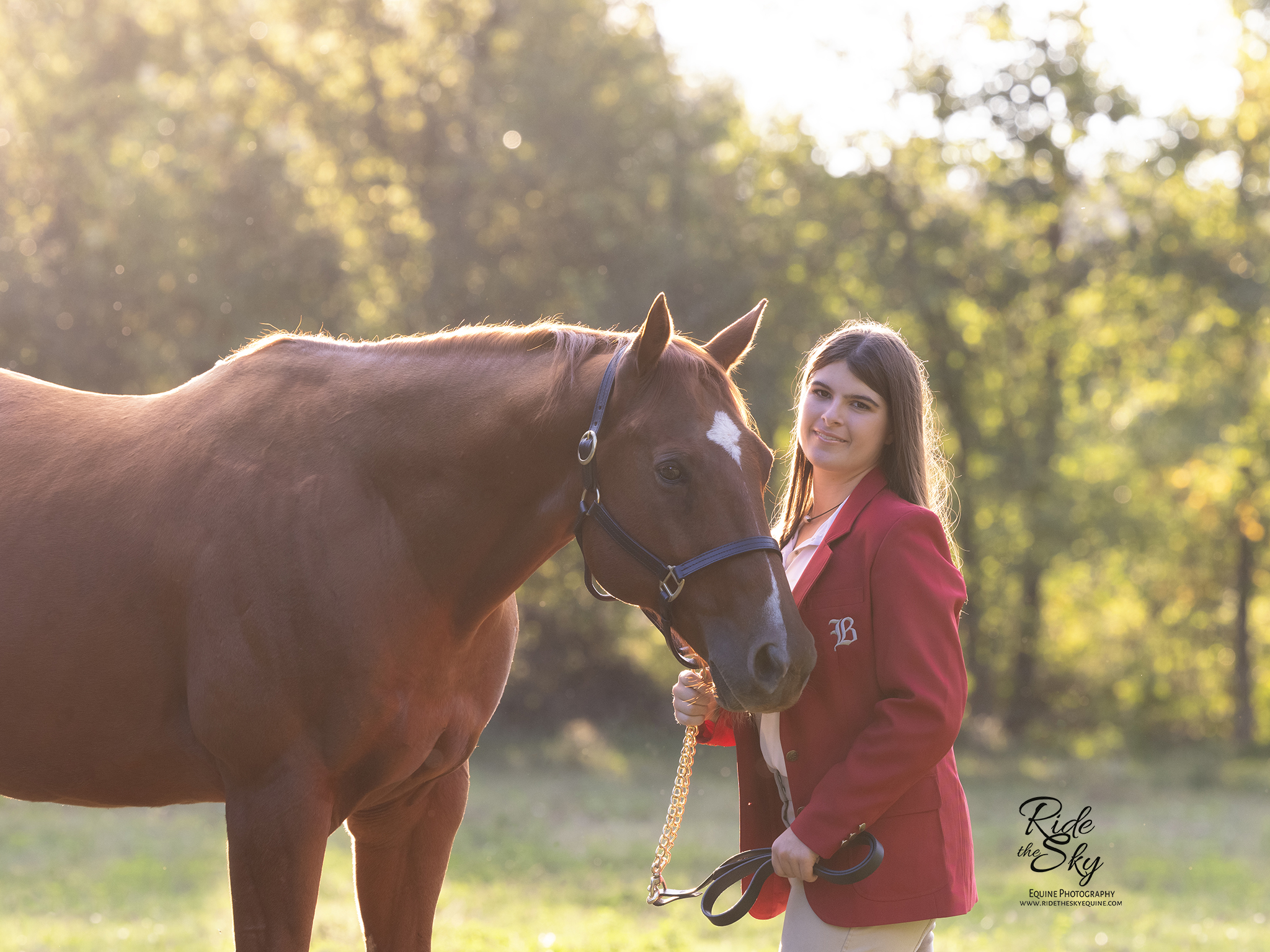 Senior Pictures With Your Horse
Don't know what to wear? No worries! Equestrian senior photography sessions include guidance in clothing selections, and hair and makeup options.
Don't know how to pose? No worries! We will guide you through a series of natural and flattering poses for your and your horse. The best part? You're going to be having so much fun, you'll forget the camera is even there.
Your session is followed up by a reveal and ordering appointment where we go through your images and pick your favorites for your art pieces and products.
When should I book my Chattanooga Equestrian Senior Portrait Session?
The Ride the Sky Equine Photography calendar books pretty far in advance.
In general, we book 5-6 months in advance and for fall sessions, we book approximately 6-8 months in advance. Keep those timelines in mind when booking your appointment.
For Senior Sessions, we are currently booking for both the Class of 2022 and the Class of 2023.
If you are in need of images for yearbook ads, graduation cards, etc. make sure you know your deadlines prior to scheduling in order to make sure we have enough time for shooting and editing. Book as soon as possible for the best dates.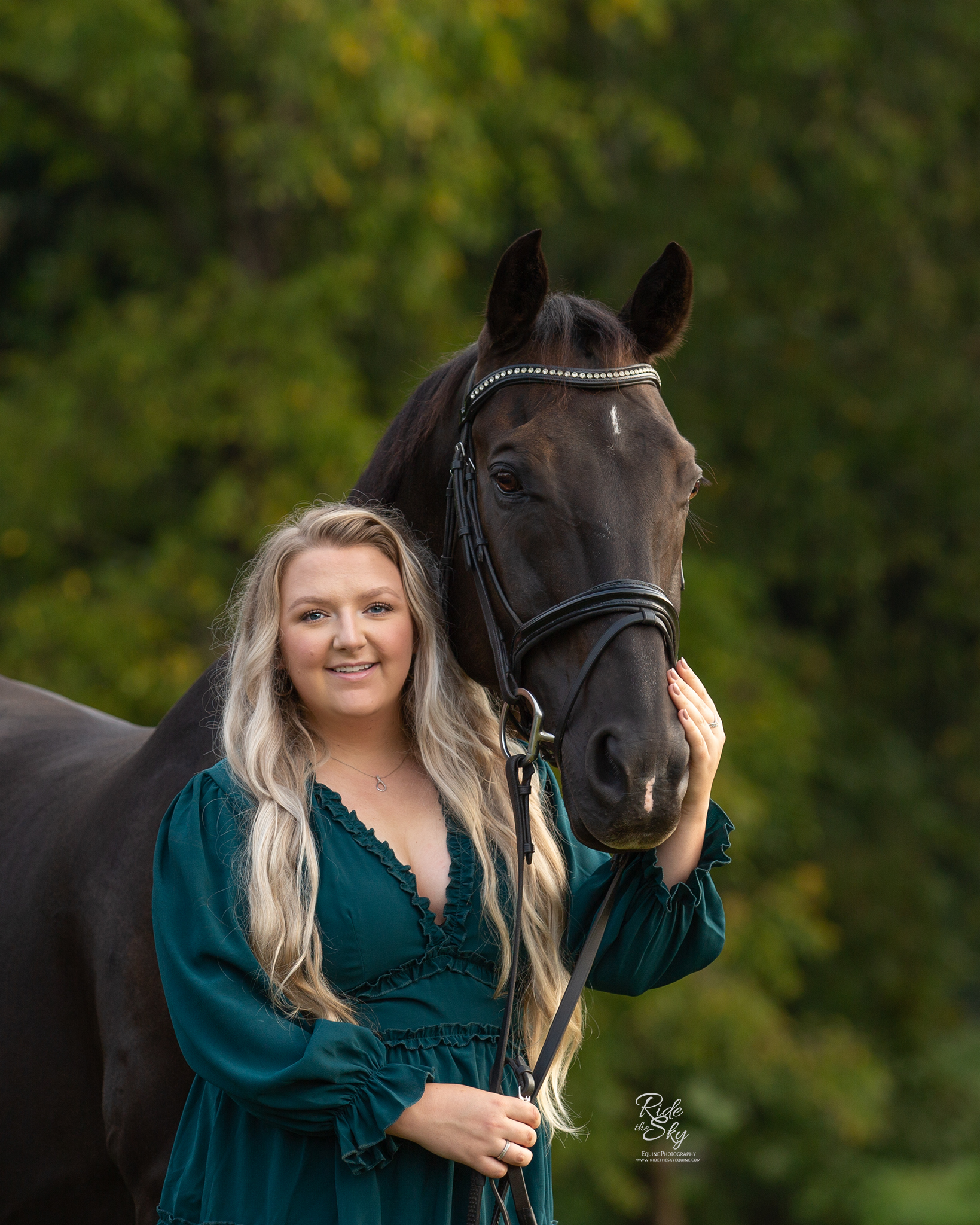 Why Hire Betsy Bird of Ride the Sky Equine Photography for your Senior Pictures with your Horse?
The connection between equines and the equestrians who love them is one of a kind. You would be hard-pressed to come up with any other connection on earth equal to it.
Betsy is a Certified Professional Photographer (CPP) with the Professional Photographers of America (PPA). She specializes in equines and the equestrians who love them.
As a former equestrian herself, and with a background in all things horse, Betsy knows exactly how to make your equine companion look his or her best while capturing the connection between the two of you.
If you like to have a good time while capturing amazing images of you and your horse, Betsy is a great fit for you.  Learn more about Betsy here.
Where Can I have a Senior Photoshoot with my Horse?
Don't know where to have your equestrian senior portrait session? No worries!
Sessions can be held wherever your horse is most comfortable – your home or the boarding barn.
If your horse is comfortable going off-property, sessions can also be held in a variety of locations throughout the East Tennessee and North Georgia area.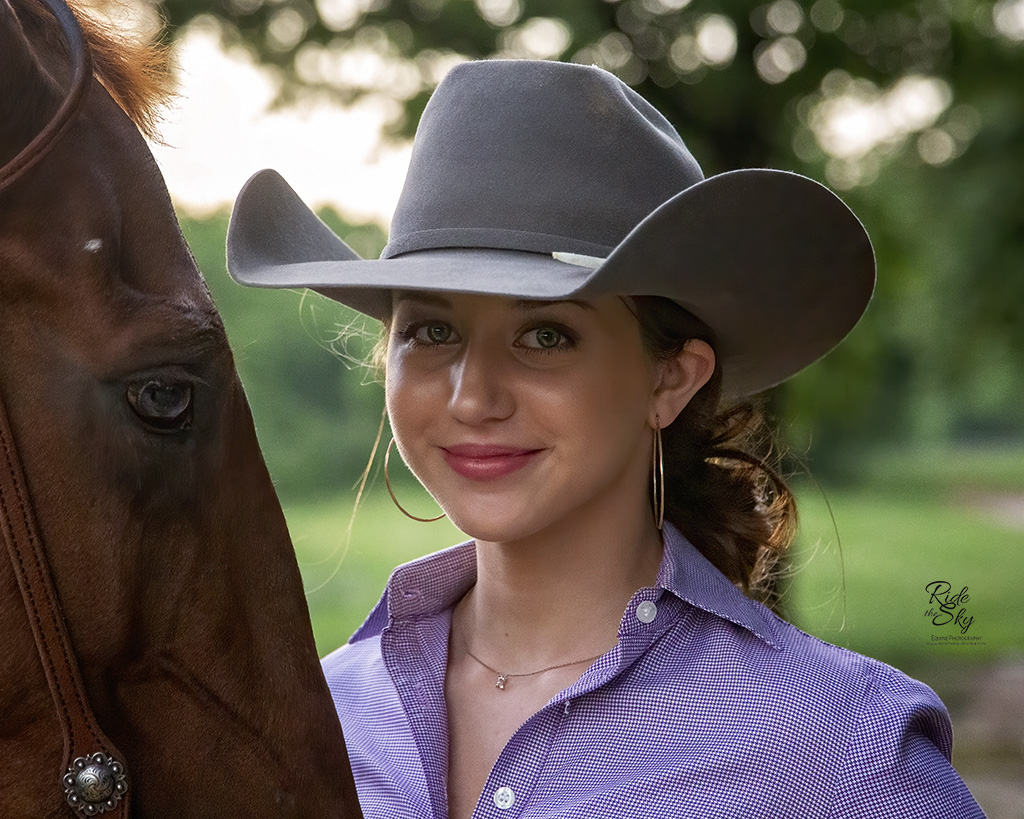 Your Equestrian Senior Portrait Session is Waiting
Betsy is there to hold your hand and guide you through all the ins and outs of a custom equestrian portrait session to make sure you have beautiful memories captured in a tangible form that celebrate the end of your high school or college life and the start of something new.
Senior photoshoots with your horse include guidance from the start to the delivery of your items.
A Pre-Consultation on clothing, locations, preparing for your sessions, and tips and tricks

Style Guide Magazine

Custom Photography Session with unlimited clothing changes

Reveal & Ordering Appointment

Artwork Guide

Education about different digital and tangible product options

Access to items in the Ride the Sky Style Closet
Can I have other items or props in my equestrian senior photo shoot?
We encourage you to use items or props in your session that symbolize where you are at this point in your life.
Some suggestions of items to use are:
Do you play a sport? Consider pennants or sports balls
Letterman Jackets
Know where you are going to college? Consider a sweatshirt or T-Shirt from your new collegiate home
Musical Instruments
Class Rings
Your Favorite Pet
Meaningful Objects from this time in your life
Your best friend (besides your horse that is)
.
Ready to Learn More about Senior Pictures with your Horse in the East TN/North GA area?
Complete the form below to have more information sent to you about Chattanooga Equestrian Senior Portraits.
Betsy Bird of Ride the Sky Equine Photography spends her days doing insane things to make horses look at her. Clearly, she's desperate for attention. When she's not celebrating the stories of the amazing horses in her clients' lives, she invests time and energy into perfecting her equine photography skills and growing her business, hanging with her favorite rescue dog, Nitro, and planning her next big adventure. She also tries to spend some time educating and entertaining her fans and potential clients by blogging and posting on social media about whatever catches her fancy at the moment. 
Betsy is a Certified Professional Photographer (CPP) with the organization Professional Photographers of America (PPA). The CPP designation is held by fewer than 2,000 photographers nationwide and is a hallmark of consistency, technical skill, artistry, and professionalism. Ride the Sky specializes in on-location photography for equines. Ride the Sky also has the option of bringing the studio to the stable. Based in Chattanooga, TN, Ride the Sky Equine Photography works on location in Tennessee, North Georgia, and beyond.