Getting to Know Betsy Bird of Ride the Sky Equine Photography
Equine Portrait Specialist from Chattanooga, Tennessee
It's really hard to believe that the new year is already here. Good grief, the last few years have simultaneously flown and dragged by.
I'm not a New Year's resolution person, but I'm totally on board with goals and plans.
Which is important as a business owner. My goals have been set. I'm excited about where Ride the Sky Equine Photography will be by this time next year.
I look forward to sharing this little spot on the internet with those of you who enjoy beautiful horses, sharing knowledge, and cheering for each other's success.
As you plan your next year, what do you hope to happen? It's is always a good idea to look back, see what worked and what didn't. But it's also important to see the big picture – how far you have come in a year.
So… as we kick off the new year, I thought it would be fun to tell you some things about me and how I got where I am. Give you a chance to peek behind the scenes so to speak.
Living in the Scenic City
I live in beautiful Chattanooga, Tennessee. Also known as the Scenic City…and, in more recent years, Gig City.
My husband and I joke that we can't ever move from here because we are spoiled with the speed of our internet.
I've been here in Chattanooga for almost 20 years now. It's hard to believe.
When my husband and I first got married, we moved over and over with jobs.
In fact, we lived in three states all in the same year. That was the year I decided that we needed to start using tax professionals instead of doing them ourselves! Shout out to all those tax professionals dealing with crazy tax issues.
I love it in Chattanooga. We are surrounded by beautiful mountains and rivers. We are a small city but within easy driving distance to Nashville and Atlanta if we need something from the big city.
A Lifetime Love of Horses
I've had horses in my life for almost as long as I can remember.
When I was young, my parents moved to a small farm. Originally we had beef cows. Eventually, horses took over.
We lived right outside of Athens, Georgia. Our farm became a boarding farm for University of Georgia students looking for a place for their horses during school terms.
I grew up as a country kid spending my days outdoors riding horses.
We didn't have cable TV. In fact, even to this day, cable doesn't run to the farm.
My parents did get a satellite dish but only once all the kids were grown and moved out of the house.
And the most common refrain I hear is, "Why have 200 channels when there is nothing interesting to watch?"
Growing up, I competed in Hunter/Jumpers on the local show circuit and through 4-H.
Probably one of the most vivid memories I have is of my heart horse Continential Cloud. Cloud was a buckskin pinto. He was green broke…and, actually, that might be a generous description.
Anyway, here I am, barely at the level of "equestrian" when we go to test out this "green broke" horse. He's saddled up, I hop on and take off on what can only be described as a completely uncontrolled gallop across an open field.
Needless to say, I got dumped and Cloud happily headed back to the barn – and my waiting mom – without me.
By the time I wandered back, Mom was in a full-out panic and I had decided that Cloud was the one for me. Ha!
And he was. We grew up together. We learned together. We succeeded together.
We paid $200 for Cloud. He was worth millions to me.
Understanding the Connection with Horses
From a young age, I recognized the connection I have with horses.
It runs through all the females in our family. My mother is always outside, trail riding and spending time with her horses. 
I consistently seek out to surround myself with them.
From riding and training horses to 4-H horse judging, I lived and breathed horses.
From horse showing to even competing in local, state, and national public speaking competitions talking about horses.
I think I even managed to infuse a love of horses in my first-born who I'm pretty sure came into this world with reins in her hands.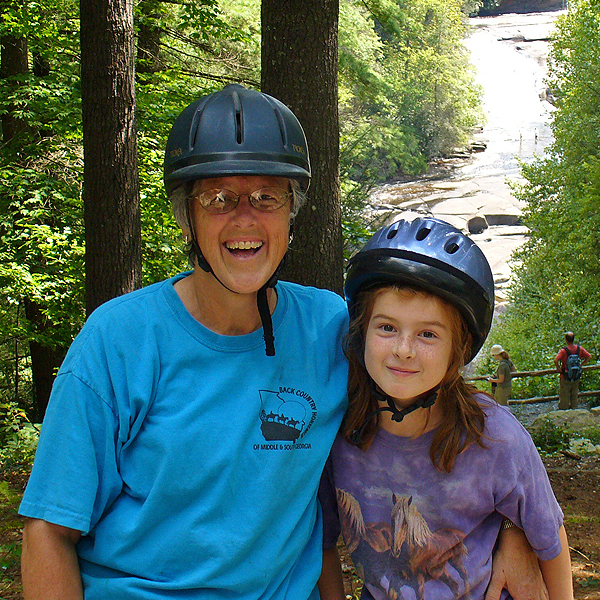 Professional Horse Photography Wasn't Always the Plan
So the truth is I came to be a professional photographer later in life.
Though, animals were pretty much always in the plan.
As a kid, I wanted to be a large animal veterinarian.  As I got into college, I discovered that being a veterinarian meant way more science than I had an interest in learning.
I merged the love of animals into a degree in journalism with an agricultural focus. But then I decided that was too specific – and not "animal-y" enough. So I went to straight journalism and graduated with an ABJ with an advertising/marketing focus.
I spent the next several years working in the advertising, marketing, and visual merchandising fields.
All that changed when my first kid was born.
My previous job required me to be on the road 5 of 7 days a week. Which wasn't easy with a newborn.
So I started envisioning a life that worked for me and my family.
I started my own business part-time. Working with entrepreneurs who needed marketing expertise but couldn't yet bring on a full-time marketing professional under their business.
I picked up my camera to start photographing my daughter with horses.
My love of photography stems from my dad who was a hobby photographer all his life. And eventually became a professional once he retired. Photography was a way that we always connected.
Professional horse photography was never supposed to be a career.
It was supposed to be a creative outlet. But, as time passed, it kept growing.  For a few years, I ran both the marketing business and the horse photography business. I realized that was not sustainable with three young kids at home and a husband who traveled for work a lot.
I had to make a choice. And in the end, it wasn't really a choice, I went back to my animal roots.
Capturing the Beauty of Horses with Photography
There is something about horses that always pulls me in.
Their majestic nobility.
Their goofy antics.
Their bonds with their humans.
They are both gentle and powerful. They are both overt and subtle in their behavior.  They are versatile in the work they do.
Horses are my passion. 
As a horse photographer, I create true-to-life, beautiful, timeless equine images.
I'm not big on trends or fads in editing photographs. I want horses to look like themselves on their best day. I want my clients to have beautiful horse images that don't date to a photography trend but rather stand the test of time.
As I embark on yet another year, I would look forward to Ride the Sky Equine Photography continuing to serve the Chattanooga area equestrians through equine and equestrian portraits.
It's important to me for my clients to know that this isn't just a horse photo shoot. I offer a full-service photography experience.
My clients participate in the process from the pre-session consultation to the final art pieces in your home and stables. From start to finish we collaborate to create not only beautiful equestrian images but the end products.
I am looking forward to continuing to grow Ride the Sky as an equestrian photography business for both the Chattanooga equine-based business industry, as well as, regional and national equine brands.
Let's connect and create the horse photography experience you are dreaming about.
Or if you're an equine business looking at how to build your brand with high-quality images that reflect your brand and business, let's talk.
Want to know More about Betsy Bird of Ride the Sky Equine Photography?
If you've read all of this and still want to know more about me, make sure to take a quick peek at the About Betsy page on the Ride the Sky Equine Photography Website.
There are several fun – and totally true – facts about me on there. 
Betsy Bird of Ride the Sky Equine Photography spends her days doing insane things to make animals look at her. Clearly, she's desperate for attention. Betsy is a Certified Professional Photographer (CPP) with the organization Professional Photographers of America (PPA). The CPP designation is held by fewer than 2,000 photographers nationwide and is a hallmark of consistency, technical skill, artistry, and professionalism.
Ride the Sky specializes in on-location photography for equines and pets, and has the option of bringing the studio to the stable. Additionally, Ride the Sky provides works with equine and pet brands and businesses to provide commercial photography for their advertising and marketing needs in both the digital and print spaces. Based in Chattanooga, TN, Ride the Sky Equine Photography works on location in Tennessee, North Georgia, and beyond.