Did you know that surrounding yourself with things that you love can help you have a better mindset and mood? Not to mention, what equestrian wouldn't want to bring their horse into the house with them? I mean, seriously. Today we are talking about canvas for horse portraits.
When it comes to wall art, you have a lot of choices. There are canvas, metals, and framed prints. There are framed and unframed options. And glossy, semi-gloss, matte, and more.  Decisions, decisions. What's a horse girl to do?
What is the best choice for you? And, yes, you might be surprised to know, the answer isn't the same for everyone.
So let's talk a bit about canvas and its pros and cons. 
Is Canvas the Right Fit for my Horse Portraits?
There is a reason that canvas has been popular for as long as it has. It has a classic, timeless feel that never goes out of style. If you lean towards a more traditional art form, the canvas can bring a warm and traditional feel to your home or office.
Canvas is a very versatile medium for equine artwork and it offers a traditional elegant flair to any space.
Canvas works well with bold and soft colors. Unlike traditional prints, canvas has longevity and durability to it.
The photography lab I use for Ride the Sky Equine Photography canvas products offers a museum-quality canvas that is truly incredible. Learn more about my canvas here.
It is designed not only to last a lifetime but also designed for the way we live our lives.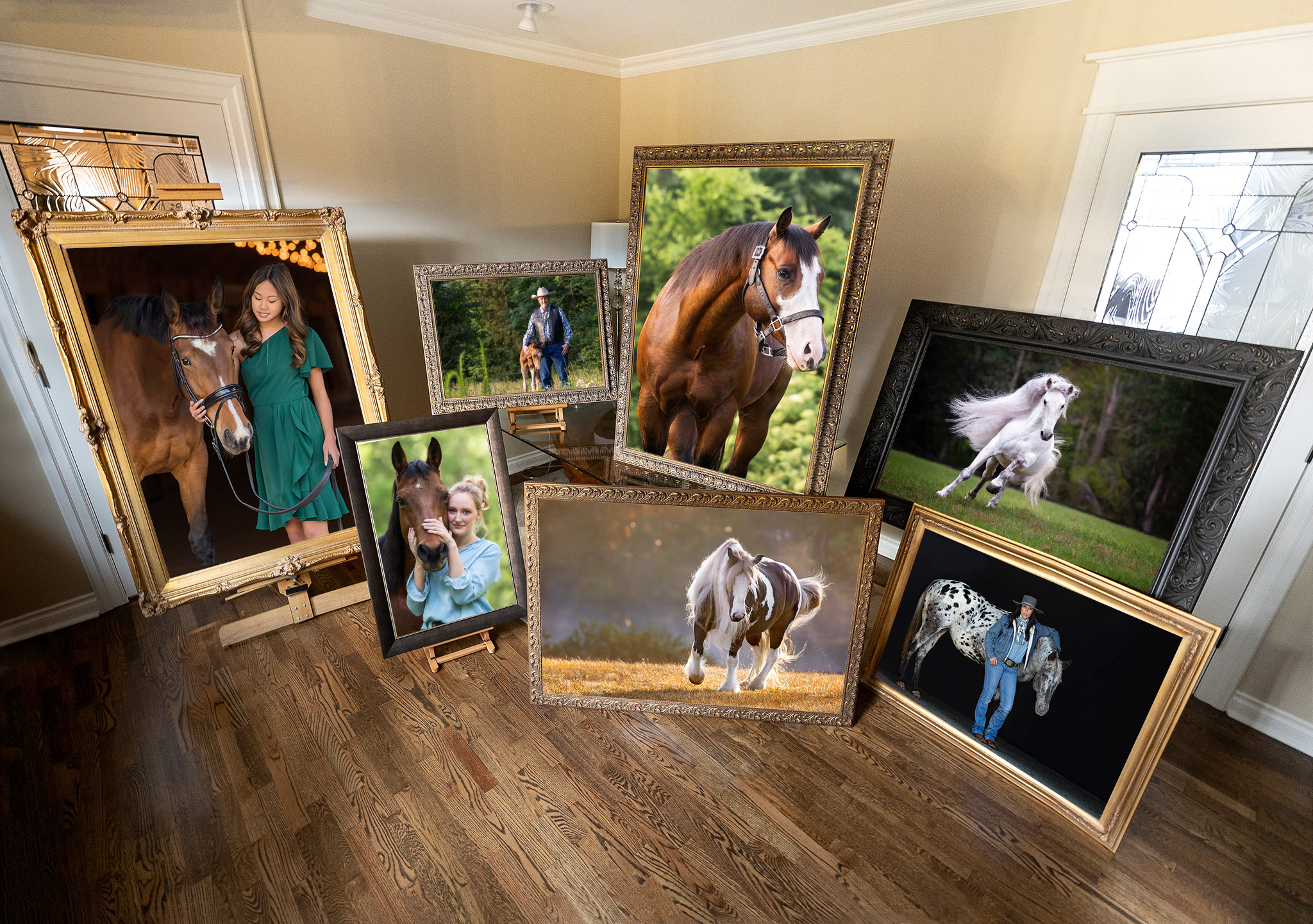 Can I Hang Equine and Equestrian Canvas Wraps in My Barn or Stable?
While canvas can look lovely in a barn or stable, you definitely need to consider the placement.
Unlike metals, canvas is not waterproof or scratch-resistant. Canvas also does best when not placed in direct sunlight.
If you are looking for a hard-wearing product that you can place in a busy barn area or an outdoor living space, canvas is not the best choice.
If you have your heart set on displaying canvas in your barn, consider locations like an enclosed tack room or a break room.
Canvas would not work in the barn aisle across from the wash rack or other high-humidity areas. Canvas also should not be placed in direct sunlight.
If you want to fill that space across from your wash rack or a sunny spot with a gorgeous image, consider a metal piece instead. Special coatings to the metal to help increase its longevity in a more challenging environment.
Learn more about the pros and cons of placing your equine portraiture on metals here.
Work with an Equine Portrait Specialist
If you are still wondering if you should chose canvas for horse portraits, don't worry!
That's one of the benefits of working with an equine portrait specialist. You don't have to know all of this – because I do!
If you are going to spend money creating beautiful images of your favorite horse, shouldn't you invest in making sure those images are not only captured in a medium that will make them last but also suit your style and home?
Read here to learn more about the experience of working with an equine portrait specialist.
If you are ready to have a lot of laughs while creating beautiful equestrian artwork for your home, then it might be time for you to reach out and schedule your equine photography appointment with Ride the Sky Equine Photography.
Betsy Bird of Ride the Sky Equine Photography spends her days doing insane things to make horses look at her. Clearly, she's desperate for attention. When she's not celebrating the stories of the amazing horses in her clients' lives, she invests time and energy into perfecting her equine photography skills and growing her business, hanging with her favorite rescue dog, Nitro, and planning her next big adventure. She also tries to spend some time educating and entertaining her fans and potential clients by blogging and posting on social media about whatever catches her fancy at the moment.  Betsy is a Certified Professional Photographer (CPP) with the organization Professional Photographers of America (PPA). The CPP designation is held by fewer than 2,000 photographers nationwide and is a hallmark of consistency, technical skill, artistry, and professionalism. Ride the Sky specializes in on-location photography for equines. Ride the Sky also has the option of bringing the studio to the stable. Based in Chattanooga, TN, Ride the Sky Equine Photography works on location in Tennessee, North Georgia, and beyond.