When it comes to horse portraits, it's important to consider the medium and how it fits into your home and style. Are you a more modern person? Is your style contemporary? If so, consider metals for horse portraits.
If you aren't sure what your home's style is, do a quick search on Google Images or Pinterest and see what images catch your eye.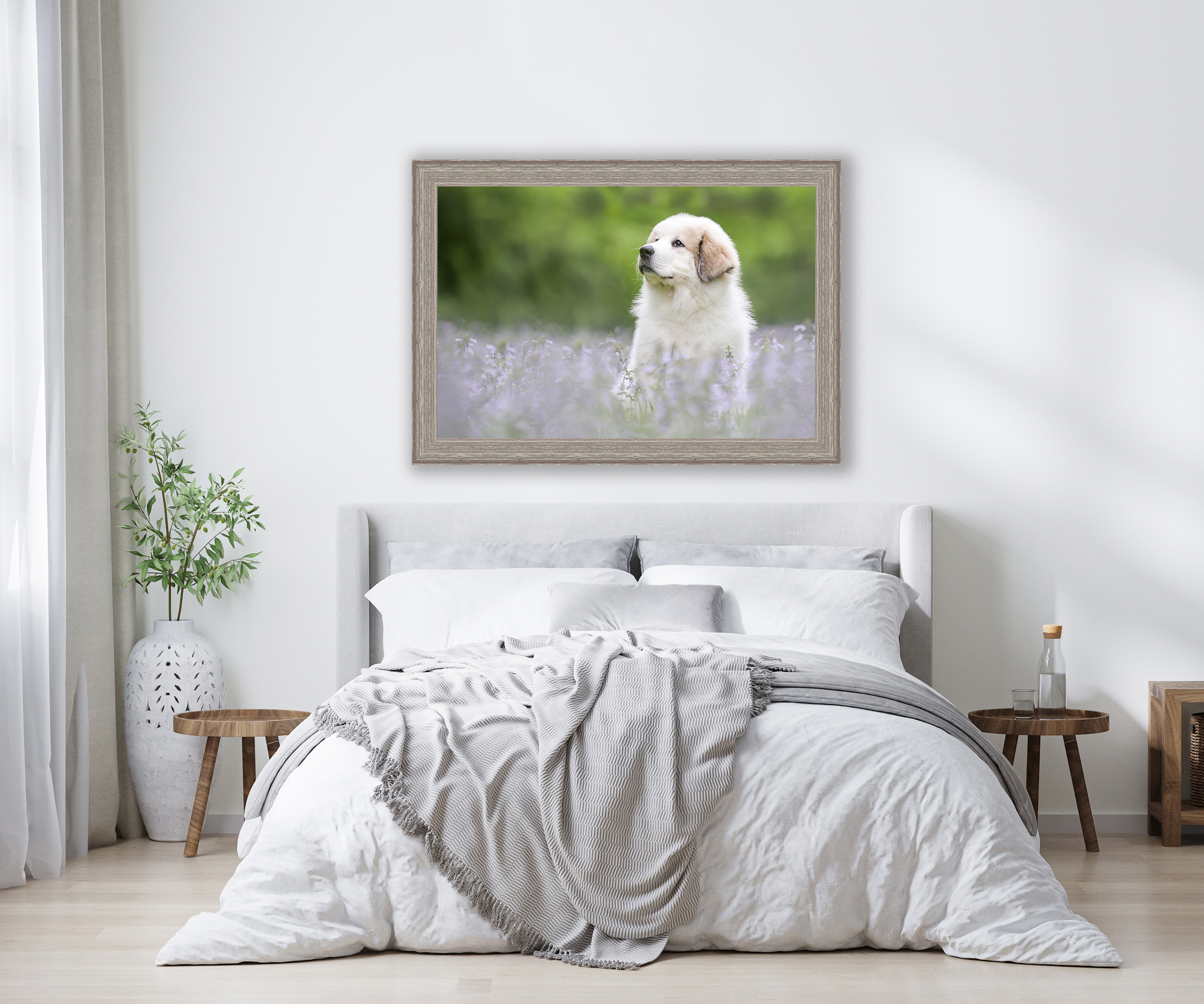 Is Metal the Right Choice for My Equine Portraits?
Equestrian metal prints are created by having dyes infused directly onto large metal sheets. This process results in a high definition of color and a modern look.
Metal prints offer a lot of advantages.
First, if you are thinking about placing your artwork in your stable or in the outdoor living spaces of your home, metal should be one of your top choices.
Metal is waterproof and easy to clean.
It's also scratch-resistant and almost fade-proof.
And, as an added bonus, you don't need to worry about fingerprint smudges.
Additionally, equestrian metal prints are lightweight.
When unframed, they create a floating effect on your wall when hung. Which makes metals look sleek and modern-looking.
When framed, metals offer a more traditional look with no need for glass which eliminates a lot of the weight of a framed print.
If your image has lovely colors with high contrast, metal is exceptional for this type of image.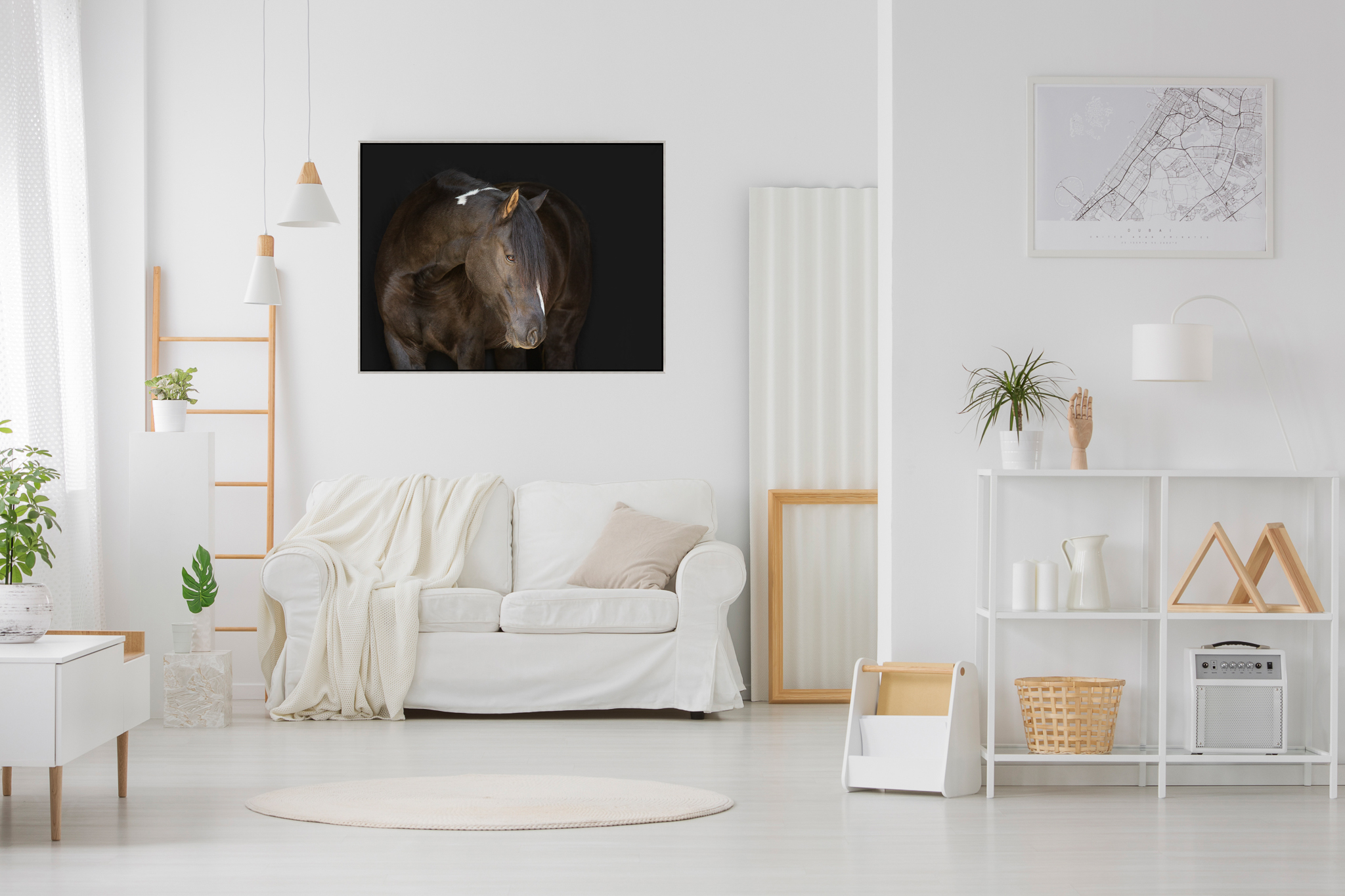 Does Equestrian Studio Photography Look Good on Metal?
Was your equestrian photoshoot mainly indoors? Did you end up with a lot of classic black background horse portraits?
And, now you are wondering how to make those images look best on your walls.
No worries!
Equine studio images are stunning on metal prints.
The metal calls out the color contrast. You will enjoy the look and feel of these images in your personal living space.
If you lean towards a more contemporary or modern look to your home, metal prints are an excellent choice for you.
Metals can come in a glossy, semi-gloss, or matte finish. Unframed, they offer a modern look. Framed, they lean more traditional.
Working with a Horse Portrait Specialist
Still confused about what medium would work best for your equestrian images?  No worries!
That's one of the many benefits of working with me. From our first meeting to the final delivery of your equestrian artwork, we work together to create and deliver horse portraits that suit your style, budget, lifestyle, and home.
If you are ready to have a lot of laughs while creating beautiful equestrian artwork for your home, then it might be time for you to reach out and schedule your equine photography appointment with Ride the Sky Equine Photography.
Betsy Bird of Ride the Sky Equine Photography spends her days doing insane things to make horses look at her. Clearly, she's desperate for attention. When she's not celebrating the stories of the amazing horses in her clients' lives, she invests time and energy into perfecting her equine photography skills and growing her business, hanging with her favorite rescue dog, Nitro, and planning her next big adventure. She also tries to spend some time educating and entertaining her fans and potential clients by blogging and posting on social media about whatever catches her fancy at the moment.  Betsy is a Certified Professional Photographer (CPP) with the organization Professional Photographers of America (PPA). The CPP designation is held by fewer than 2,000 photographers nationwide and is a hallmark of consistency, technical skill, artistry, and professionalism. Ride the Sky specializes in on-location photography for equines. Ride the Sky also has the option of bringing the studio to the stable. Based in Chattanooga, TN, Ride the Sky Equine Photography works on location in Tennessee, North Georgia, and beyond.