Setting short-term goals in a horse photography business is a great way to help focus your energy, and stay on track and motivated.
When it comes to short-term goals, it's important the goal be realistic AND that can be achieved within a reasonable time frame.
I frequently develop my short-term goals by breaking down my long-term goals into manageable chunks. That way, I am always working towards a larger goal while making progress every week.
Using Long-Term Goals to set Short-Term Goals
So, why should you use long-term goals to set short-term goals in a horse photography business?
Let's take a minute and think about it from a weight-loss perspective.
Let's say you need to lose 100 lbs. That's huge! And overwhelming to even consider. Where do you even start?
By breaking it down into manageable chunks.
A short-term goal might be to lose, 30 pounds every 3 months. Doesn't sound as hard, right? But, it's still tough.
That's ok.
Because you can break that down even further.
You could say, "I'm going to lose 10 lbs in a month."
And you can break that down even further by setting a goal of losing 2.5 pounds a week.
2.5 pounds doesn't sound nearly as overwhelming as 100 lbs.
But as you continue to reach your smallest goal, you are always working towards your long-term goal.
If you are a visual processor like me, it would look something like this: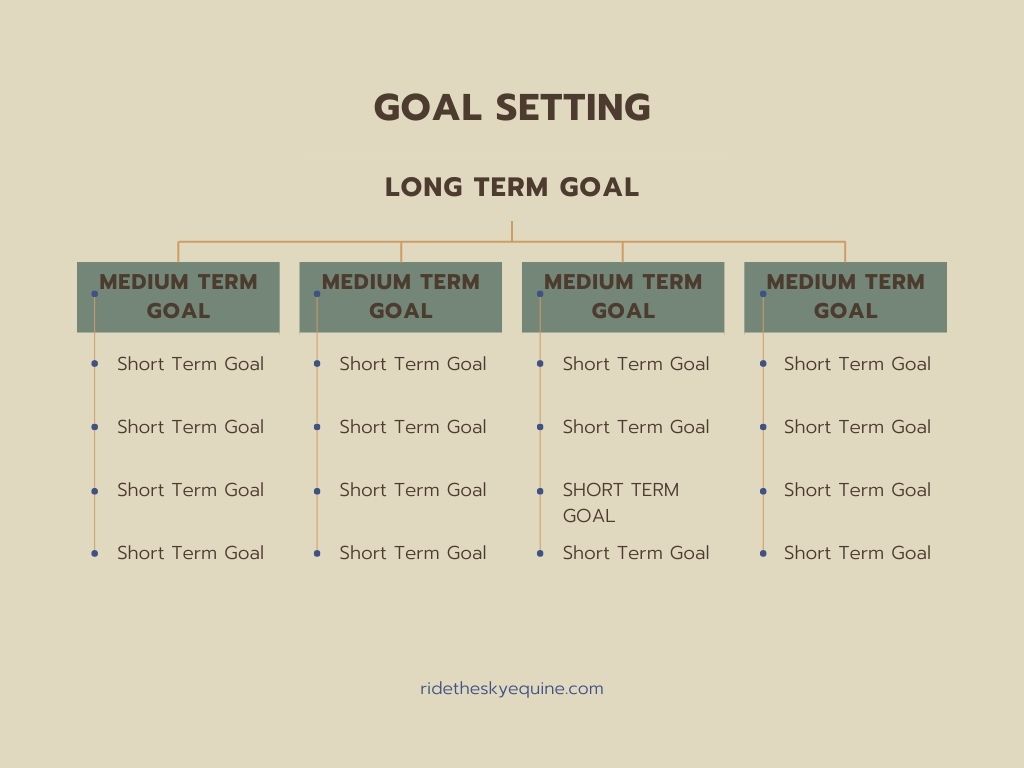 Changing How You Think about Goals
The fact is that when it comes to goal setting, a lot of its success comes from switching how the brain thinks about goals.
Not to mention that those tiny feeling of accomplishment when you reach any goal – no matter how small – gives you a little dopamine boost in your brain.
And that will put you in a better mood, and help you stay motivated to keep going.
Breaking Down a Long-Term Goal into Short-Term Goals for a Horse Photography Business
So how does this work for a horse photographer?
Here's an example:
Let's say that you have a long-term goal of having your horse photography published in a national magazine.
So, let's take a look at how we might be able to break that goal down into more manageable goals.
Long Term Goal: Horse photograph being published in a national magazine
First, take that long-term goal and break it into 3 of 4 smaller chunks. I do it by months personally.
So, for the purposes of this example:
Month 1: Research
Month 2: Collateral
Month 3: Execute
But that's still a lot. So, let's see how we can break it down even further.
Moving from Monthly to Weekly Goals
So since the monthly goals may still look a little overwhelming, let's talk about how we can break it down even further.
When I do this in my personal business, I always try to break monthly goals into 4 pieces, so that I have one thing I need to do a week to move this project forward.
So, here is how I broke out these goals:
Short-Term Goal Month 1: Research
Goal 1: Research different horse magazines to identify the ones that are most likely to feature your photography
Goal 2: Research the submission process for each horse magazine / Make a spreadsheet of the information so you never need to search for it
Goal 3: Research Networking Events to make Connections in the horse Publication Industry. For example, you might want to attend the AHP Equine Media Conference.
Goal 4: Connect with horse magazine editors and writers in the industry to increase the visibility of your horse photography
Short-Term Goal Month 2: Building Collateral
Goal 1: Create a portfolio of your best work to submit to equine magazines
Goal 2: Create a landing page on your website that showcases your magazine work and makes it easily accessible to potential editors
Goal 3: Batch write and schedule social media posts that attract the attention of the magazines you are interested in
Goal 4: Set up a workflow with emails and tasks
Short-Term Goal Month 3: Execute
Goal 1: Submit your work to magazines regularly
Goal 2: Respond to any inquiries from magazines and negotiate if necessary
Goal 3: Review contracts and agreements thoroughly before signing
Goal 4: Update your Portfolio as needed
Ready to Move your Horse Photography Business Forward?
This simple way of thinking about goals will continue to move your business forward even if you don't feel like you are making progress. If you make the plan and working, you will be amazed at what changes you can make in your business in just a few short months.
Still lost and overwhelmed?
No worries! Reach out and let's talk about mentoring! Let me help you get your business on the right track to achieve what you want to achieve! Click here to send a message about mentoring.
Betsy Bird of Ride the Sky Equine Photography spends her days doing insane things to make horses look at her. Clearly, she's desperate for attention. Outside of acting like a total weirdo, she invests time and energy into growing her business, hanging with her favorite dog, Nitro, dealing with her teenagers' angst, mentoring photographers, public speaking, and planning her next big wheels-up adventure. Betsy is a Certified Professional Photographer (CPP) with the organization Professional Photographers of America (PPA). The CPP designation is held by fewer than 2,500 photographers nationwide and is a hallmark of consistency, technical skill, artistry, and professionalism. Betsy specializes in creating storytelling magic for horse girls of all ages. In other words, she enjoys working with fun-spirited clients who need horse portrait photography, equestrian senior photography, and equestrian brand photography. She even throws in some dogs for variety because what true horse girl doesn't love a great pup too. Based in Chattanooga, TN, Ride the Sky Equine Photography works on location in Tennessee, North Georgia, and beyond.