Congratulations, recent high school graduate! You did it! 🎓 But hey, if you're feeling like you missed out on the whole senior pictures experience or if the idea of being in front of the camera makes you cringe, fret not! We have a solution that will capture the essence of this exciting time in your life without the awkwardness.
Consider doing what Olivia did and including your amazing equine companion to make your senior pictures a truly unique and unforgettable experience.
After all, senior portraits are not about a specific moment. They are about celebrating the journey and the things that are important to you during this phase of your life.
Check out a few of Olivia and Quinn's portraits from their senior session at Border Creek Sporthorses in Ringgold, GA.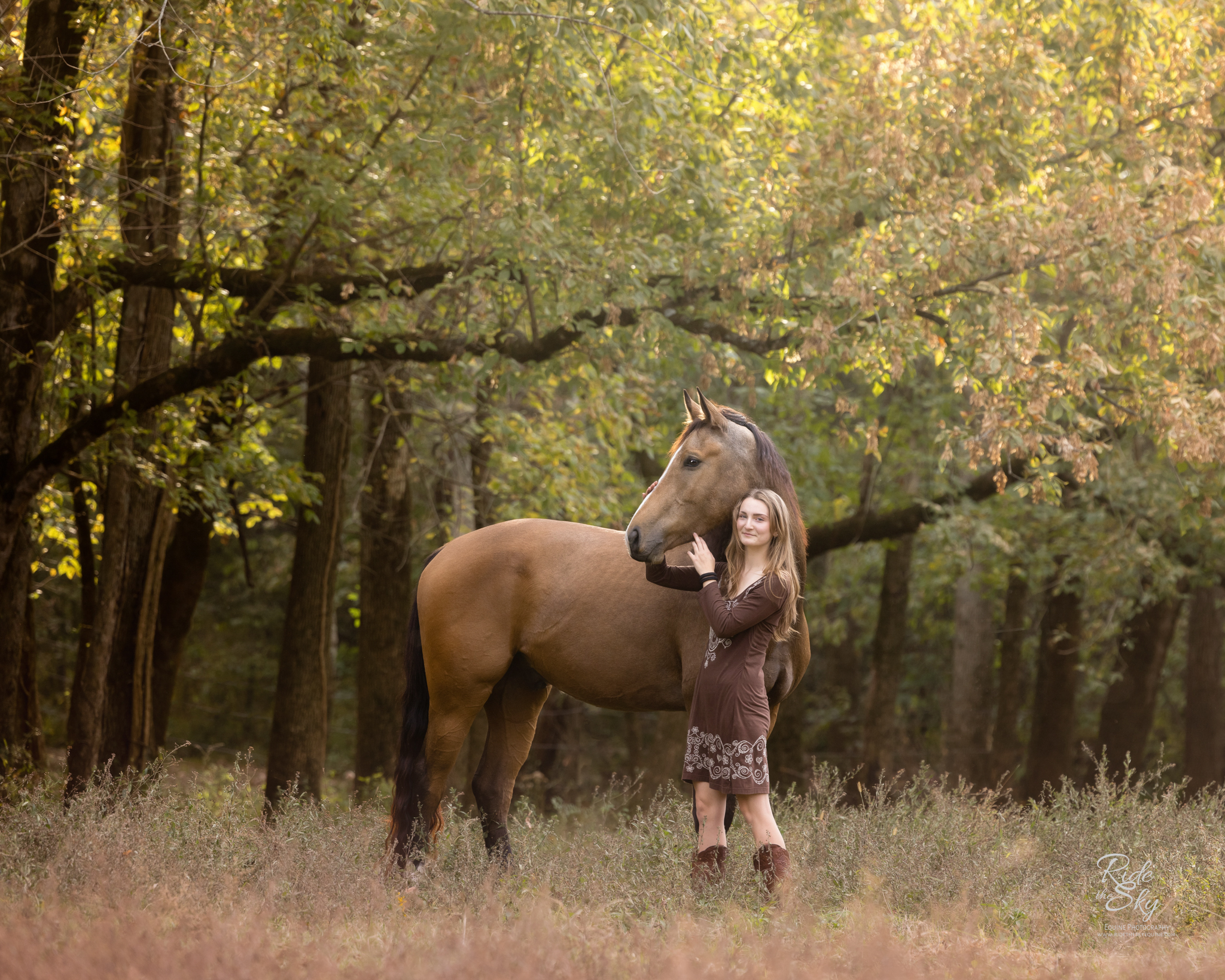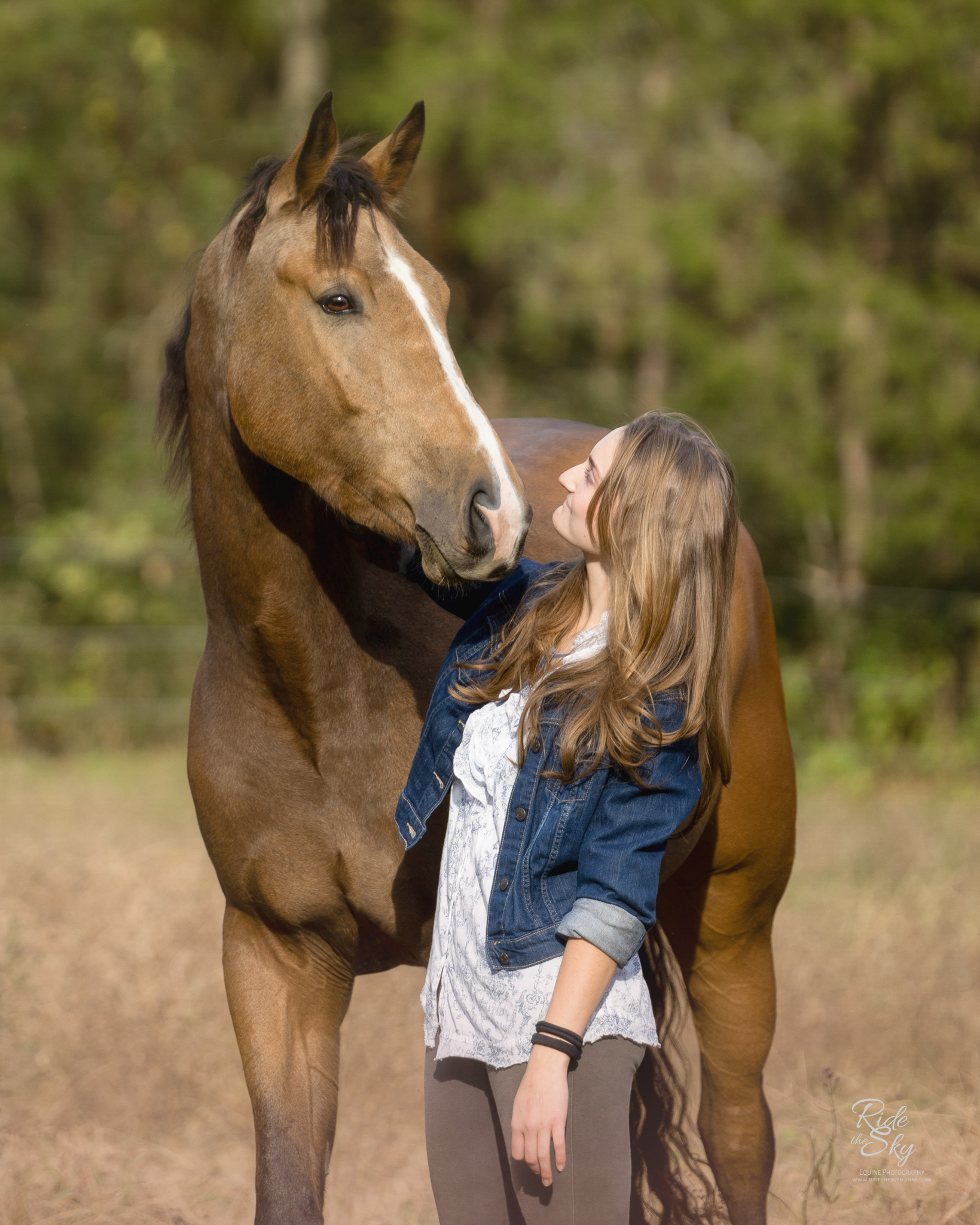 My beautiful girl and the love of her life captured in amazing photographs by one of the very best photographers I've ever met!!! Betsy touched my heart and the very soul of Livi and Quinn on that beautiful fall day! Thank you, Betsy, for being the phenomenal artist and friend that you are! 
Let Your Horse Steal the Show: Capturing Genuine Moments and Shared Memories
Let's be honest here: not everyone enjoys being the center of attention or posing for pictures.
And that's perfectly okay!
That's where your horse comes in. Your horse is more than just a pet; they're a trusted friend, a confidant, and a source of joy.
Including your favorite equine in your senior pictures allows you to showcase the deep bond you've built over the years. It's an opportunity to capture the genuine moments, the laughter, and the shared memories that have shaped your high school journey.
So, even if you're not a fan of being in pictures or donning that cap and gown, your horse can be your shining star, stealing the show and creating stunning and meaningful images.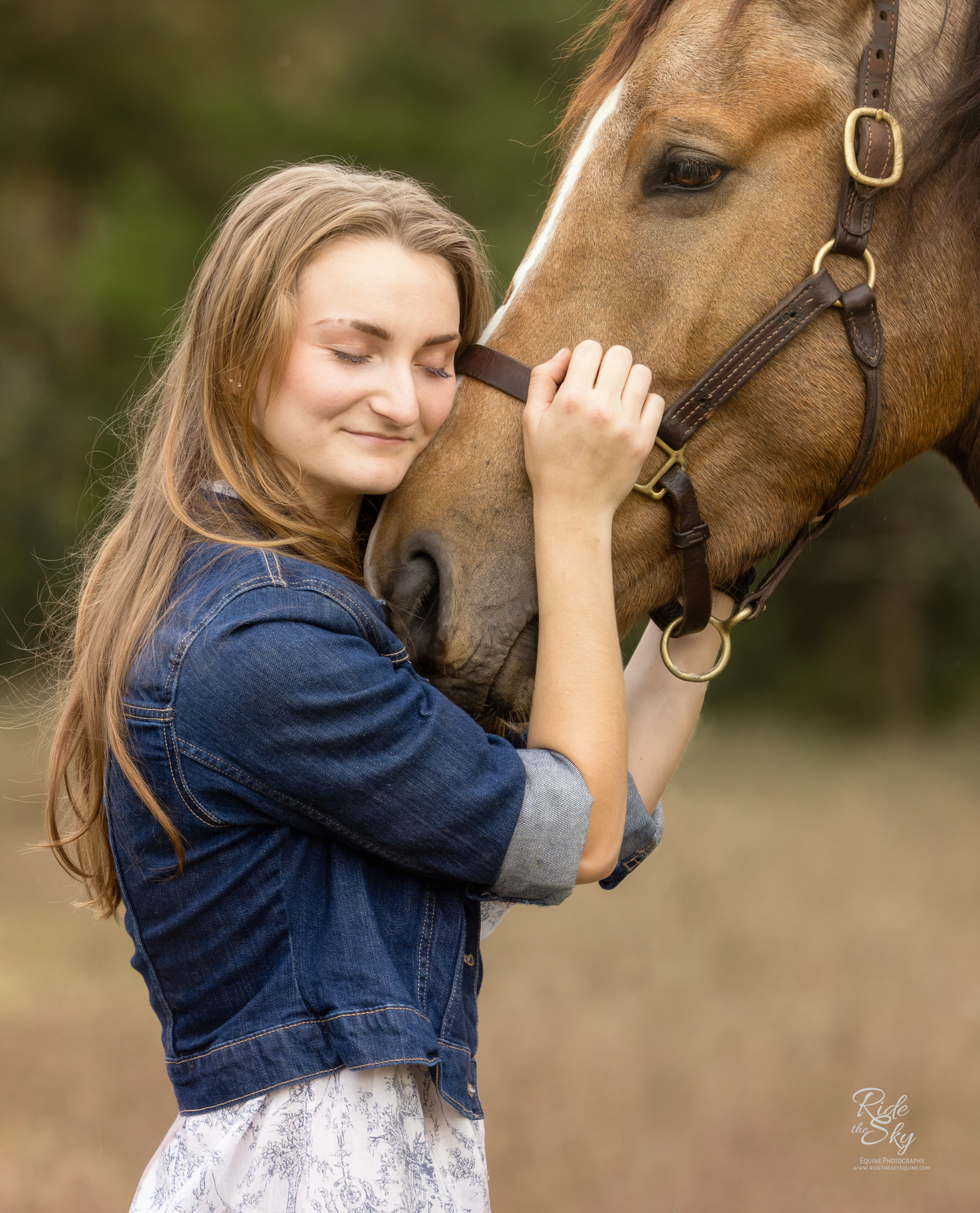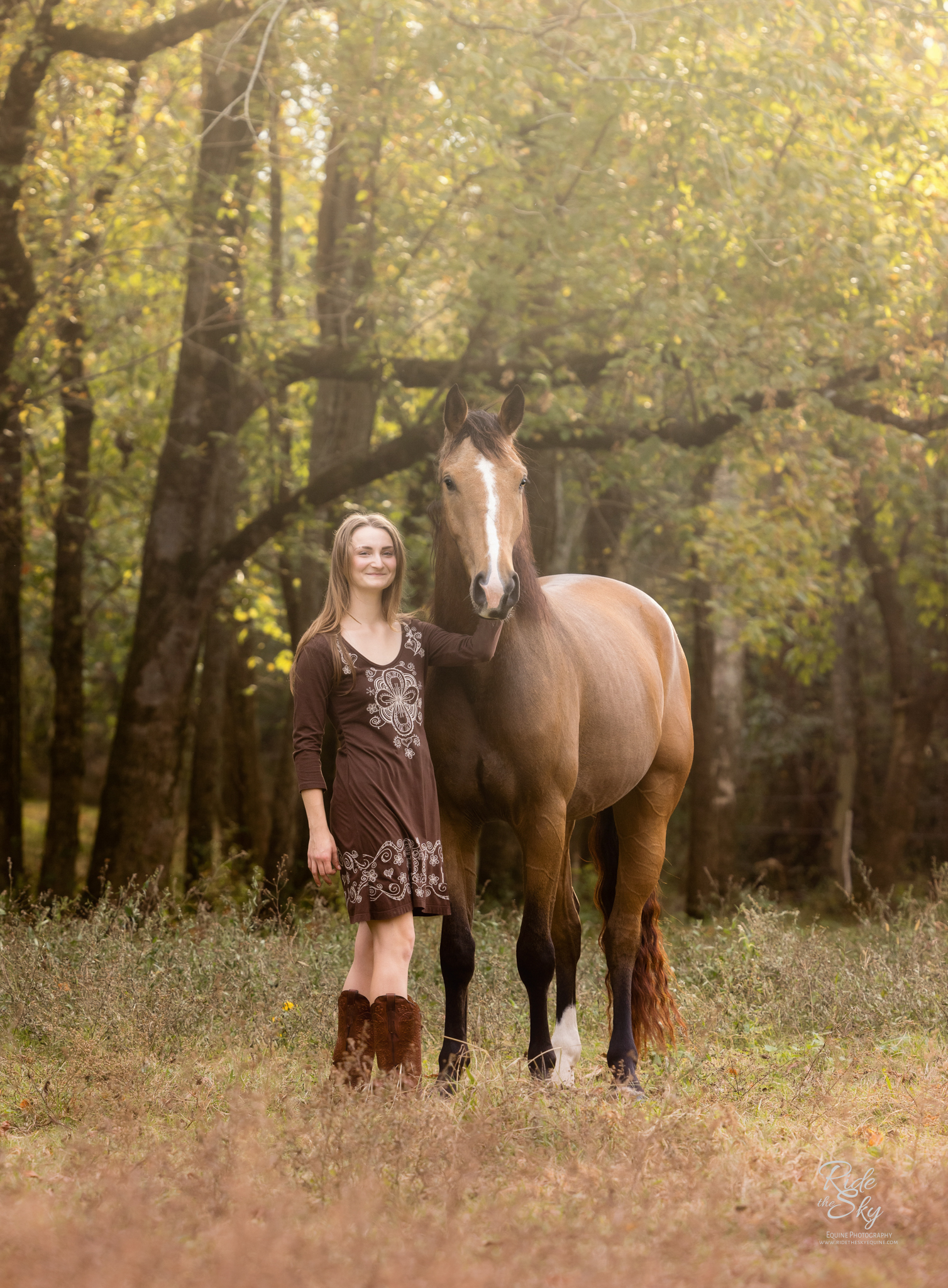 Timing Doesn't Matter: Celebrating the Spirit and Significance of Your Senior Year
Remember, it's never too late to capture the essence of your senior year, even if you've already graduated. Senior pictures are not about a specific date or moment.
They're about encapsulating the spirit and significance of this time in your life.
Whether you choose to have your pictures taken during high school or a little later, the focus remains on celebrating your accomplishments, growth, and the relationships that have shaped you.
So, don't feel obligated to dress up in that cap and gown if it's not your style.
Instead, opt for an attire that reflects your personality and allows you to feel comfortable and confident. After all, years from now, when you proudly show off that beautiful custom album of images or that handcrafted wall art portrait, you'll remember the amazing animal that was by your side throughout it all.
Remember, graduation marks a significant milestone, and it's worth celebrating in a way that feels true to you. Whether you had your pictures taken during high school or choose to do so after graduation, the key is to capture the essence of this time in your life and the things that are important to you.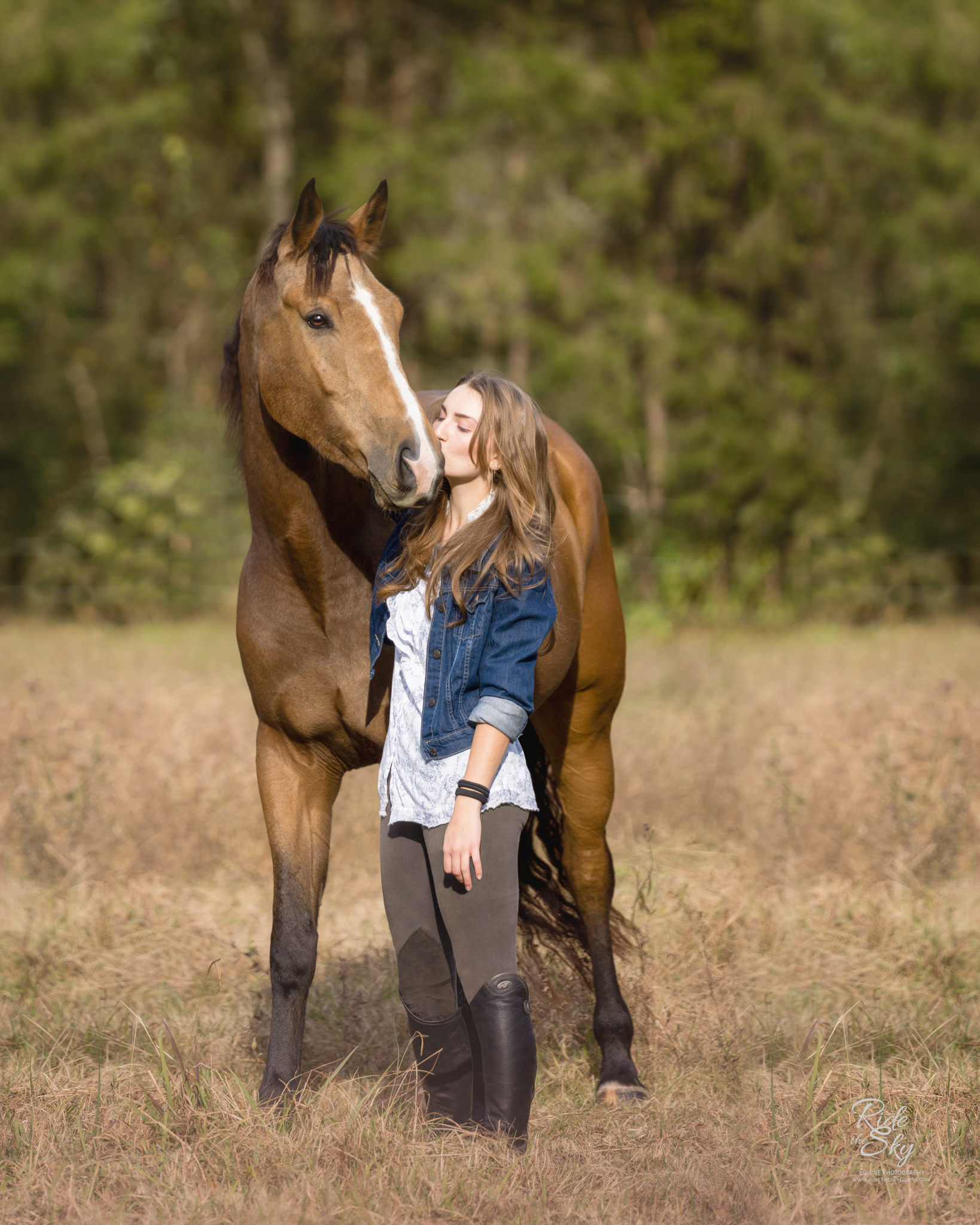 Interested in Learning more about Equestrian Senior Portraits in North Georgia and East Tennessee?
No worries! I've got you! Check out the Ultimate Guide to Equestrian Senior Pictures in Chattanooga, Tennessee.
Additionally, you might also enjoy reading some of the blog posts found on the Equestrian Seniors Blog.
Ready to book your Equestrian Senior Pictures?
If you are ready to book your equestrian senior pictures, don't hesitate to reach out. Ride the Sky Equine Photography books up 5-7 months in advance in most cases. Click the button below to send a message.
Betsy Bird of Ride the Sky Equine Photography is a Certified Professional Photographer (CPP) with the organization Professional Photographers of America (PPA). The CPP designation is held by fewer than 2,000 photographers nationwide and is a hallmark of consistency, technical skill, artistry, and professionalism.
Ride the Sky specializes in on-location photography for equines and the equestrians that love them, as well as pets and their families. Ride the Sky also has the option of bringing the studio to the stable for studio photography.
Additionally, Ride the Sky provides works with equine and pet brands and businesses to provide commercial photography for their advertising and marketing needs in both the digital and print spaces.
Based in Chattanooga, TN, Ride the Sky Equine Photography works on location in Tennessee, North Georgia, and beyond.