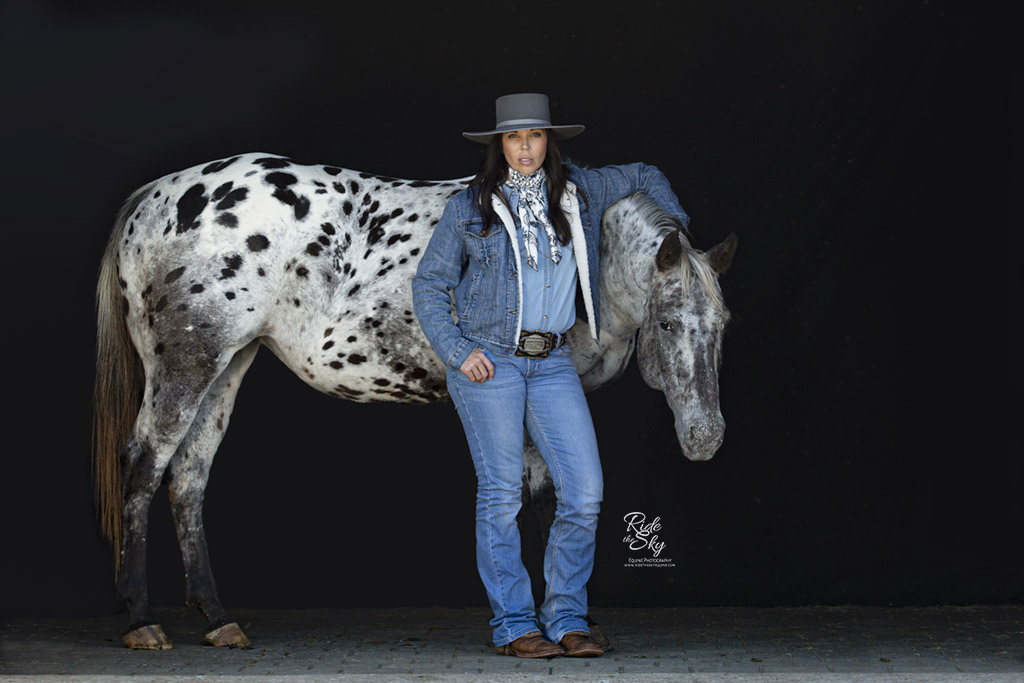 One of the most common questions I get asked is how to plan an outfit for an equestrian portrait session.
To be honest, it's a little bit of a science and a little bit of art.
Chances are you already have a few key pieces in your closet.
does the location

matter when planning my outfit
So, let's start with locations. Does a location matter when I'm planning my outfit for my portrait session with my horse?
In a word, yes. Picture this:
There you are standing in a forest full of fall foliage. There are beautiful yellows, oranges, reds, and browns.
And there you are wearing a pink top and light blue jeans. This is a mismatch.
But, that same outfit might be a perfect fit for a spring session.
Have an outfit in mind? But not sure if it will work with the location?
Ask! I spend a lot of time looking at locations in all seasons. And am happy to give you advice about what might work for a specific setting.
Dying to wear a certain outfit but you know it's not going to work at the horse's location? First, let's see if it would work in a different season.
If that doesn't work. let's see if an off-property location might work.
I have a list of venues that we have access to use.
And, if moving locations isn't an option, it might be that a simple change to your outfit that might make it work better for your location
.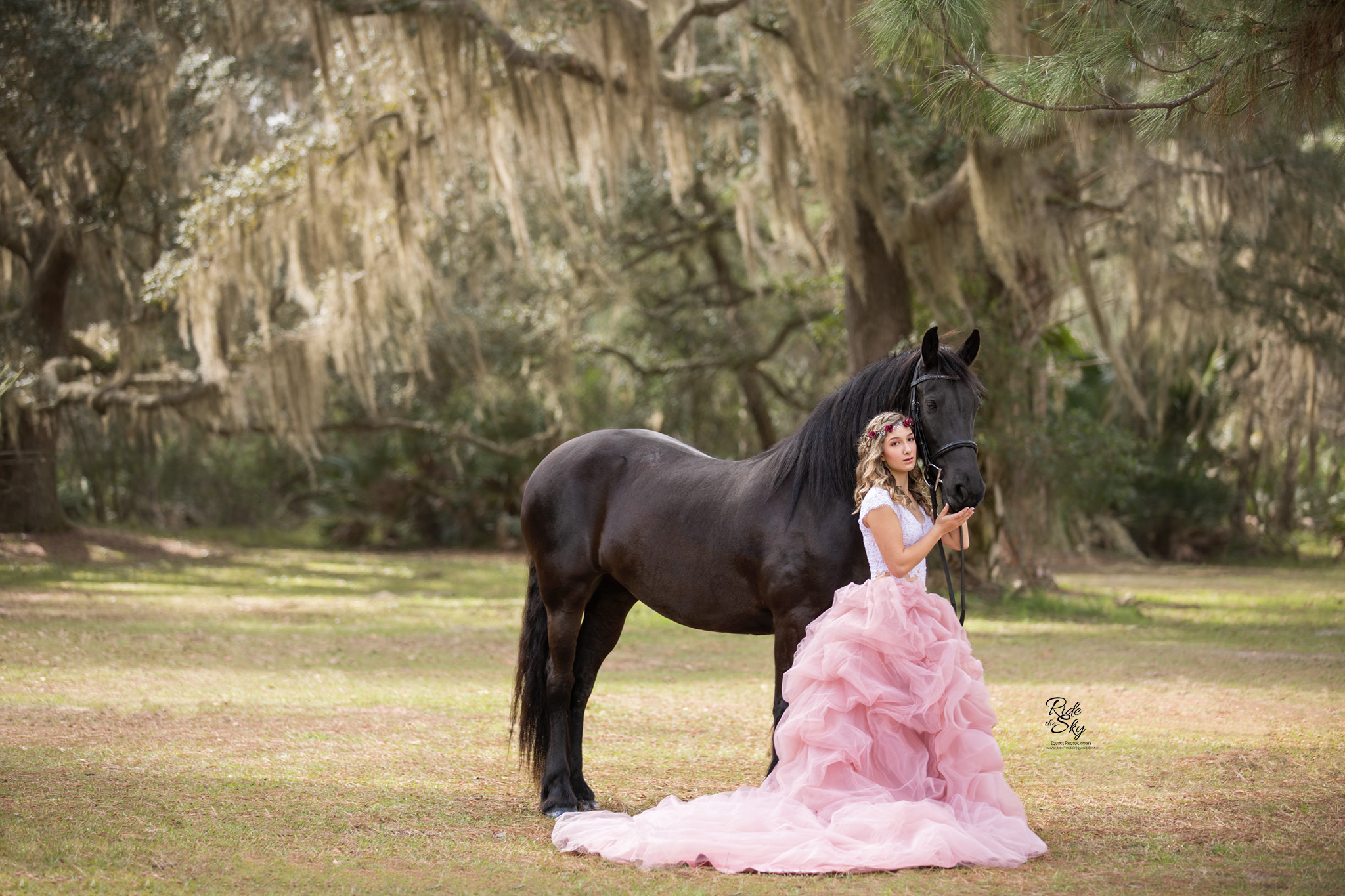 does the season matter

when planning my outfit

for my equine portrait session?
The answer is: It depends. Seasons are much more important if you live where locations change
dramatically
.
Seasons will be less important in locations that stay green all year. Or the temperature doesn't change much between seasons. 
Here in east Tennessee and north Georgia area, we have hot and humid summers, decent autumns, and wet and gray winters
.
If you live in a place where there is a definite season change, you want to make sure that you are dressing for the season.
You don't want to be standing outside in 10-degree weather in a dress designed for 90-degree heat.
So think, cute, sleeveless dresses for spring and summer.
Boots, jeans, and sweaters for fall.
And scarves, hats, and mittens for winter.
And as an added bonus, layers of clothing give you a lot more options for your colors and patterns.
You also should consider the color of the season as well.
For example, winter has a more blue/cool cast while fall has a more yellow/warm cast.
Sound confusing? No worries, I help you with all this.
Ride the Sky clients receive a Style Guide, access to the Style Closet, emails, and more to help them work through this process
.
how do i match

when my outfit to my horse in my pictures? 
Like anything with colors, the color wheel can help you out.
Complimentary colors play a role in making things look coordinated.
Remember the 80s when Mom, Dad, and the kids all showed up in white button-down shirts and matching jeans?
Those of us who grew up in the 80s prefer to block it out…
Long gone are the days when all people in the image showed up in identical outfits.
The new (and much improved) look is to coordinate without matching.
In other words,
just
because you have a black horse, it doesn't mean you need to show up in a black outfit. In fact, you shouldn't.
It doesn't matter if the images are you and your horse or if it's your entire family with the family horses and pets.
Think coordination, not matching.
Want some inspiration on how to coordinate without matching? Take a peek at our Pinterest boards. There are two, in particular, that might be helpful.
does it matter if my

boots match my horse's saddle?
This is one of the simplest tricks to make sure your images flow.
Make sure that your leathers match.
If your horse has a black saddle and a black bridle, then it makes sense for your boots and belt to be black as well.
This is a simple styling trick that adds more cohesiveness to your image.
where can i find outfits

for my equine portrait session?
Don't want to wear your show clothes for your portrait session and not in love with what you have in your closet?
Or,
perhaps
, you want to elevate your look for your portraits.
I feel
you. Sometimes there
just
isn't anything in that closet that's going to cut it.
In that case, Ride the Sky clients have access to the RTS Style Closet. It has select pieces available for client to use during their sessions.
Are you are looking for guidance on where to find clothes that photograph well that you can buy?
Ride the Sky clients have access to a store resource list. These vendors have
reasonably
priced beautiful clothes that I know will photograph well.
want all the answers

about horse photography sessions? 
If you think I might be the right horse photographer for you, review my About Me page and see if we sound like a good fit:
Meet Betsy
.
And, of course, if you know in your heart that I'm the horse girl for you and your horse, click the link below, and let's talk.
Betsy Bird of Ride the Sky Equine Photography spends her days doing insane things to make horses look at her. Clearly, she's desperate for attention. Outside of acting like a total weirdo, she invests time and energy into growing her business, hanging with her favorite dog, Nitro, dealing with her teenagers' angst, and planning her next big wheels-up adventure. Betsy is a Certified Professional Photographer (CPP) with the organization Professional Photographers of America (PPA). The CPP designation is held by fewer than 2,500 photographers nationwide and is a hallmark of consistency, technical skill, artistry, and professionalism. Betsy specializes in creating storytelling magic for horse girls of all ages. In other words, she enjoys working with fun-spirited clients who need horse portrait photography, equestrian senior photography, and equestrian brand photography. She even throws in some dogs for variety because what true horse girl doesn't love a great pup too? Based in Chattanooga, TN, Ride the Sky Equine Photography works on location in Tennessee, North Georgia, and beyond.