There is a horse photographer out there for every budget, every style, and every photography experience. So how the heck do you figure out the right one for you? By asking questions! Here are the questions to ask a horse photographer before you book.
You might be thinking, why bother?
One horse photographer is the same as another, right?
What's the big deal?
Well, I'm here to tell you that there are a lot of differences between equine photographers.
And by knowing what questions to ask a horse photographer before you book you can save yourself from being unpleasantly surprised during the process.
To make it easy for you, I have created a free guide that you can download.
It covers all this information and it has sections where you can make notes as you talk to your potential photographers as you go through the process to find the right photographer for you.
Well, I'm Here, I'll Just Hire You…
So, you might be thinking. Well, I'm here on Ride the Sky Equine's website so I'll just hire you.
Problem solved!
Before you pat yourself on the back for this masterful decision, here's the thing.
I might not be the right photographer for you.
Seriously!
I frequently turn away people that I talk to because I am not what they are looking for.
And, here's the truth.
I want you to have some great images of your horses.
I want you to have the photography experience you want.
I want you to enjoy working with your photographer.
I want you to be happy with the final products.
EVEN IF I AM NOT THE PHOTOGRAPHER TO GIVE IT TO YOU.
But, if you look over this list of things my clients have in common and you think, "It's ME! She's talking to ME!"  then by all means reach out and let's get our chat on!
Ride the Sky Clients:
Love, love, love their horses
Want a photographer who loves their horse too
Want a long-term relationship with their photographer
Want to tell the story of their horse and their bond
Want imagery that will last and that they can enjoy every time they see it
Realize life is too short not to be having fun and laughs
Don't know what they want but a thumb drive of images languishing in a drawer isn't it
Want to enjoy the photography experience instead of being stressed
Need help knowing what to wear, how to pose, and what to do with those ever awkward hands…
Read on to Know All the Questions to Ask a Horse Photographer Before you Book…
So, now that we got that out of the way, it's time to look at all the questions you really should ask.
Read on to find out all the important questions to ask a horse photographer before you book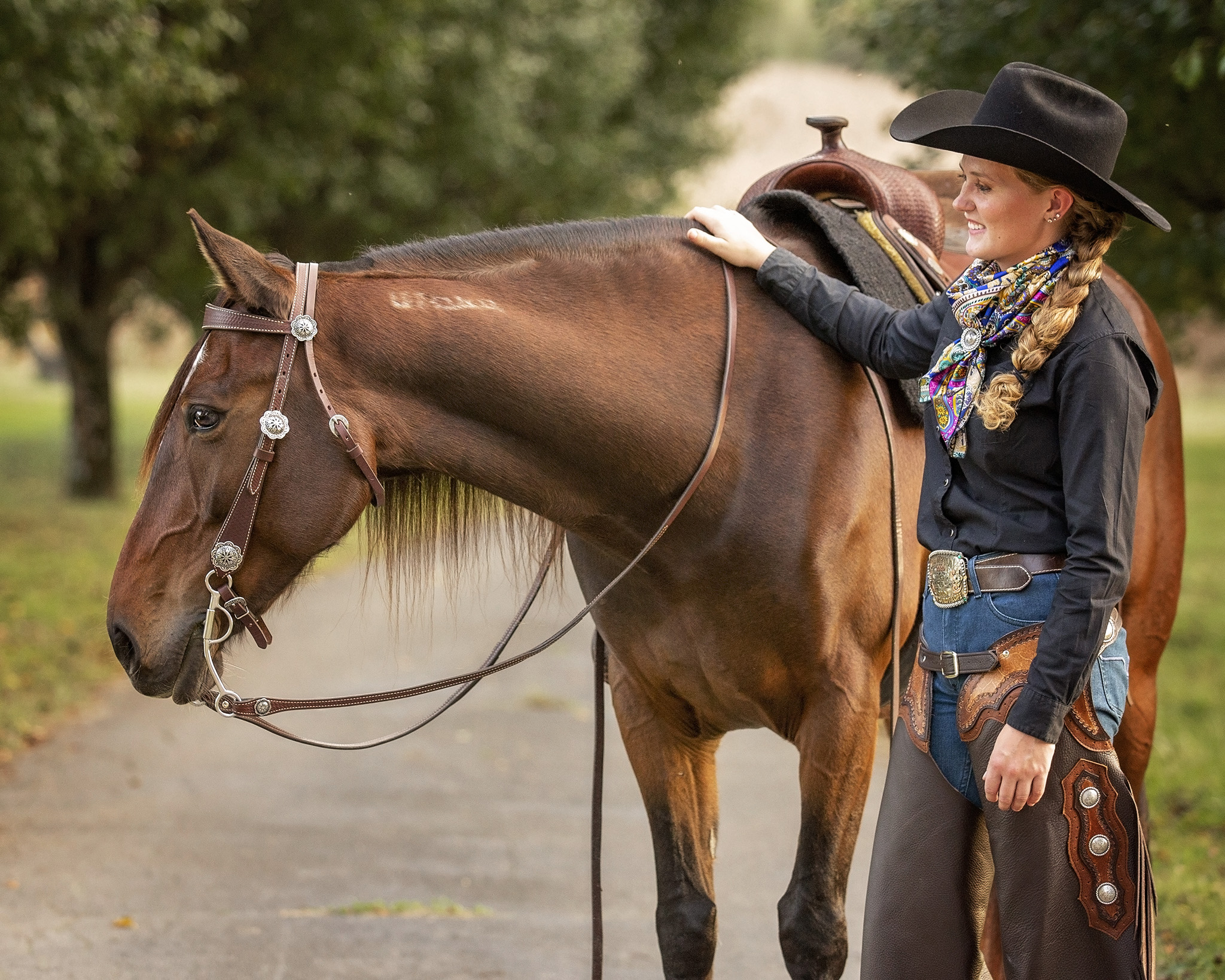 Do you have a Contract?
This is probably the number one most important question you can ask a photographer.
Contracts are designed to protect both the photographer and the client. A contract will spell out exactly what is expected of both parties and by when.
As the person being photographed, the contract spells out for you what money is owed when, what is legally allowed for you to do with your images, what the photographer is responsible for, and what the timeline is for when you should expect things to happen.
A contract is a legal way of spelling out in exact details who does what when so that all parties know what is expected of them. If you contact a photographer and they don't use a contract, I would suggest continuing to look for one who does for your own protection.
How Long Have you Been in Business and Photographing Horses?
This is important because someone could have a lot of experience with photography but no idea how to work with horses. Horse photography is a different beast than say, studio newborn photography.
With studio newborn photography you are working with studio lighting, props, and backdrops, and with a small infant.
In horse photography, you are usually, though definitely not always, working outside in natural light with a 1200-pound beast with a mind of its own.
This is not to say that horse photography is harder than newborn photography.
This is just to say that these are both difficult but in different ways.
Additionally, someone who doesn't understand horse conformation will have a harder time ensuring that the horse is correctly positioned or not suffering from distorted issues.
Great Horse Photographers:
understand how to work safely around horses with cameras and lighting gear
have knowledge of breed standards and conformation
recognize signs of a horse in distress
Betsy Bird of Ride the Sky Equine Photography spends her days doing insane things to make horses look at her. Clearly, she's desperate for attention. Outside of acting like a total weirdo, she invests time and energy into growing her business, hanging with her favorite dog, Nitro, dealing with her teenagers' angst, and planning her next big wheels-up adventure. Betsy is a Certified Professional Photographer (CPP) with the organization Professional Photographers of America (PPA). The CPP designation is held by fewer than 2,500 photographers nationwide and is a hallmark of consistency, technical skill, artistry, and professionalism. Betsy specializes in creating storytelling magic for horse girls of all ages. In other words, she enjoys working with fun-spirited clients who need horse portrait photography, equestrian senior photography, and equestrian brand photography. She even throws in some dogs for variety because what true horse girl doesn't love a great pup too. Based in Chattanooga, TN, Ride the Sky Equine Photography works on location in Tennessee, North Georgia, and beyond.