As Ride the Sky Equine Photography is actually a multi-faceted equine small business, I have compiled into one post an easy way for you to know all the different things that are available to you with links to take you right where you want to go.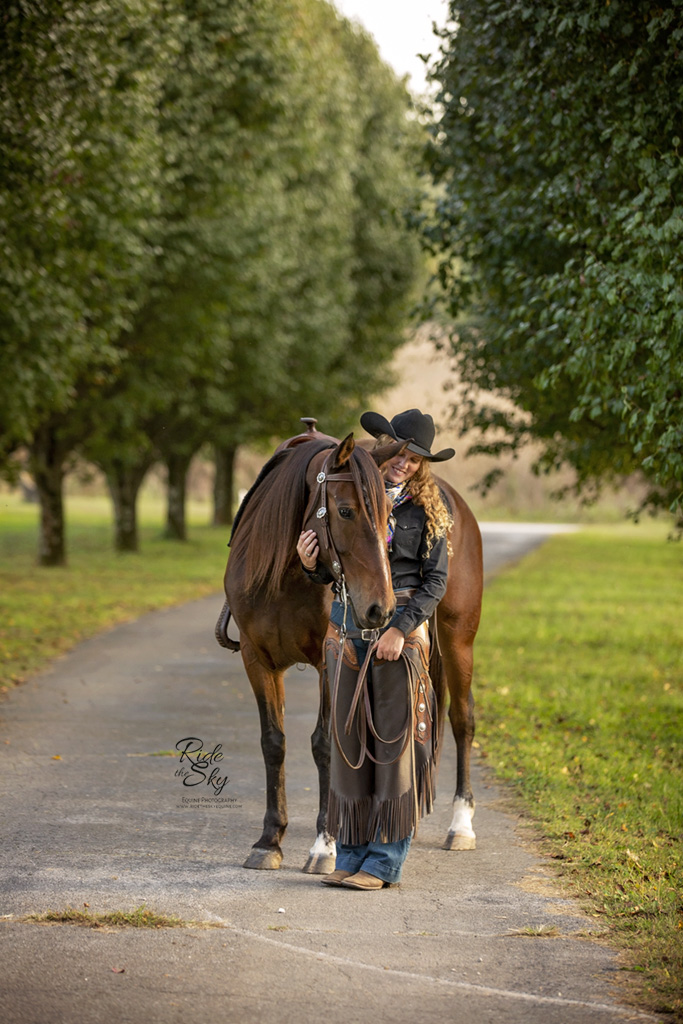 Equestrian Senior Pictures
Are you a Chattanooga area senior dreaming of having your senior pictures taken with your horse?
Chattanooga Equestrian Senior Portraits are offered in east Tennessee, north Georgia and northern Alabama – centering around the Chattanooga, Tennessee area. 
These sessions are a customized experience from start to finish and include designing your unique and beautiful art pieces.
Click here to learn more about the Chattanooga Equestrian Senior Portraits experience.
Barn Days
Barn Days are a perfect fit for barn managers and horse trainers who are looking for something special to offer their clients or a group bonding experience.
Equestrians looking for fun things to do that involve their horses AND their friends are a great fit for Barn Days as well.
Barn Days are fun, themed, and really a great way to spend time with your horse capturing beautiful images.
Please Note: Barn Days have extremely limited availability, Barn Days are not promoted on Social Media and are only available to individuals who request information.
Horse for Sale Photography Sessions
Unfortunately, sometimes there comes a time when we have to say goodbye to a horse.
Maybe they aren't the right fit, maybe you outgrew them. Whatever the reason, sales inevitably happen.
When it does, are you sure you aren't leaving money on the table?
Learn more about how professional photography can help you sell a horse here.
Need to set up a sales session? Request one here.
Event Photography
I don't shoot equestrian events anymore as the official photographer. However, I do occasionally go to events for private clients.
Want to be a celebrity? You have the opportunity to have your very own photographer for the day. Capturing your events, candids, and behind-the-scenes of the day.
Are you part of a 4-H club or horse group who would like to have your group's event and behind-the-scenes photographed? We can make that happen!
Learn more about Equestrian Event Photography

Equine and Equestrian Stock Photography
Looking for stock photography geared specifically towards your equine or equestrian business or goals?
Ride the Sky Equine Photography has a large quantity of equine stock photography images that can be used for a variety of projects.
Equine and Equestrian Stock Photography
Professional and Aspiring Horse Photographers
Are you an aspiring horse photographer who is looking for a way to improve your horse photography skills?
Perhaps you want to launch your own equestrian or pet photography business? Are you a professional photographer looking to learn how to scale or build an animal-centered photography business?
Find out how RTS Learn can help you grow your equine photography business!
Betsy Bird of Ride the Sky Equine Photography spends her days doing insane things to make animals look at her. Clearly, she's desperate for attention. Betsy is a Certified Professional Photographer (CPP) with the organization Professional Photographers of America (PPA). The CPP designation is held by fewer than 2,000 photographers nationwide and is a hallmark of consistency, technical skill, artistry, and professionalism.
Ride the Sky specializes in on-location photography for equines and pets, and has the option of bringing the studio to the stable. Additionally, Ride the Sky provides works with equine and pet brands and businesses to provide commercial photography for their advertising and marketing needs in both the digital and print spaces. Based in Chattanooga, TN, Ride the Sky Equine Photography works on location in Tennessee, North Georgia, and beyond.