It's finally your year! You're a senior!
From an overwhelmed lowly freshman to ruling the school. Those four years have been a rollercoaster of emotions, good days, and bad days.
And who was by your side? Your horse. He was there through the hard days when you struggled to get your homework done or flunked a test.
And he was there for the good days. He's seen it all. So what better way to encapsulate your high school experience than having your senior portraits with your horse?
Here are six tips on how to style your equestrian senior portraits that compliment both your and your horse, incorporate your style, and put both your best faces forward.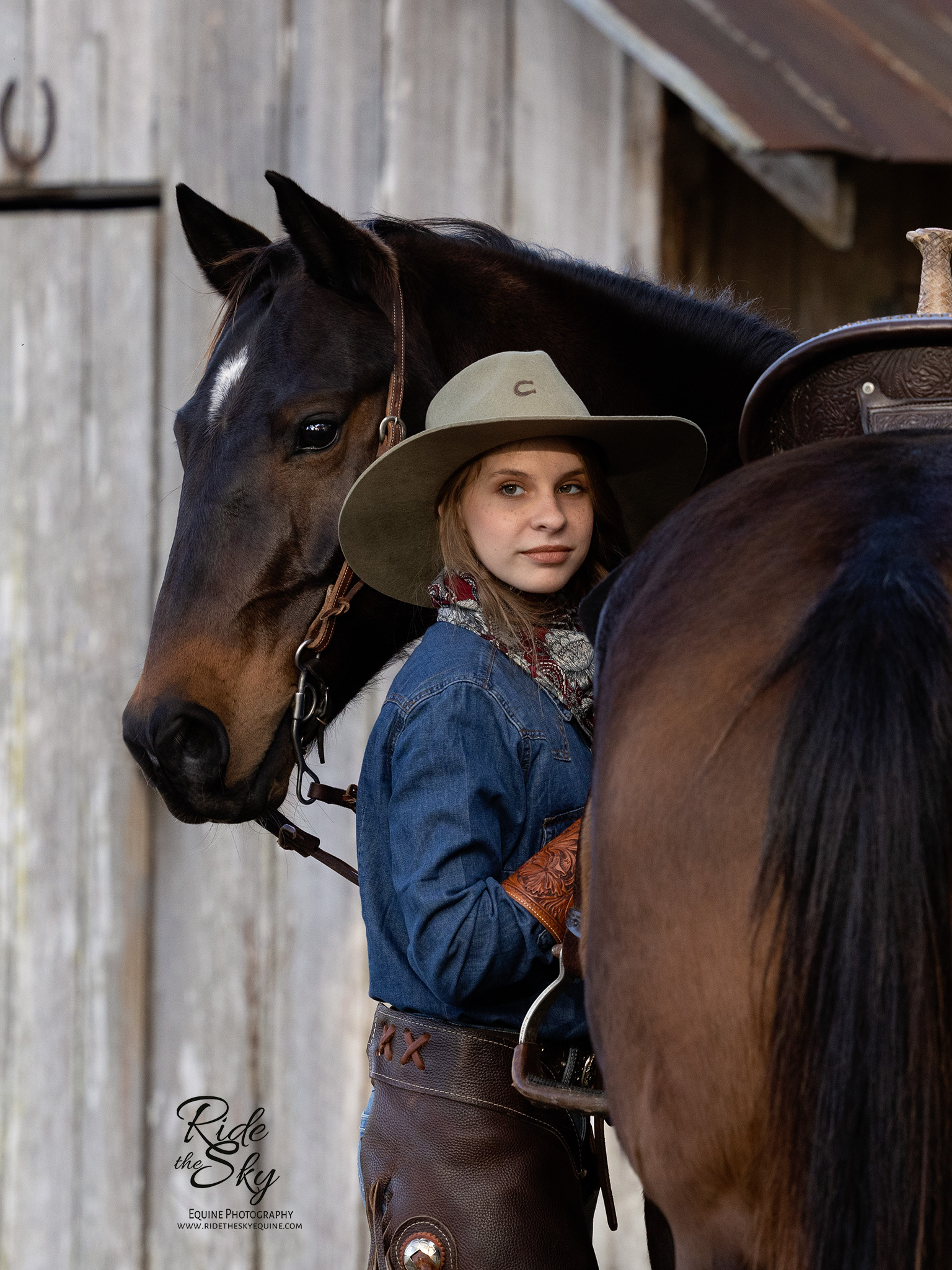 Tip 1: Mix & Match Textures
When styling your senior pictures with your horse, it's important to pick clothes that you love, and that you are comfortable in. You want an outfit that makes you feel strong and empowered.
Don't wear clothes that are too tight and don't feel comfortable. Avoid baggy and wrinkled clothes.  Mix different textures and layers. You will feel better. And, you will look better on camera. After all, if you are uncomfortable, your horse will pick up on that and both of you will look uncomfortable on camera.
Confused? No worries! Ride the Sky Equine Photography provides clients with a Style Guide to guide them through making sure they have clothing that not only photographs well, but it also compliments themselves and their horse.
Ride the Sky also has lots of Pinterest Boards set up to inspire you as you start digging through your closets!
Tip 2: Wear Clothes that Complement both you and your Horse
Wear colors that are complementary to your skin tone and hair color. You also need to take the weather into account. After all, you don't want to be out there in that hot pink strapless dress in 10-degree weather.
Avoid wearing a solid white shirt as it tends to wash you out. Though a white shirt with a scarf or cardigan over it will break up the white. Avoid neon and reflective colors.
Need more inspiration before you go digging in your closet? Visit the Ride the Sky Pinterest Boards for equestrian portrait outfit inspiration! You can even find some pins on figuring out which colors complement your horse's coloring!
Tip 3: Don't forget about the Shoes
I know you are focusing on the outfit so much but don't forget about your shoes!
Since you're an equestrian boots are pretty much a given for at least one outfit.
Consider other shoes too – but avoid high heels if you are going to be in the fields with your horse – after all, if you spend the entire time trying to get your heels out of the dirt, you aren't going to be a happy camper.
If you have your heart set on some really snazzy high heels, let me know in advance so we can plan to do those shots in an environment that is safe for both you and your horse.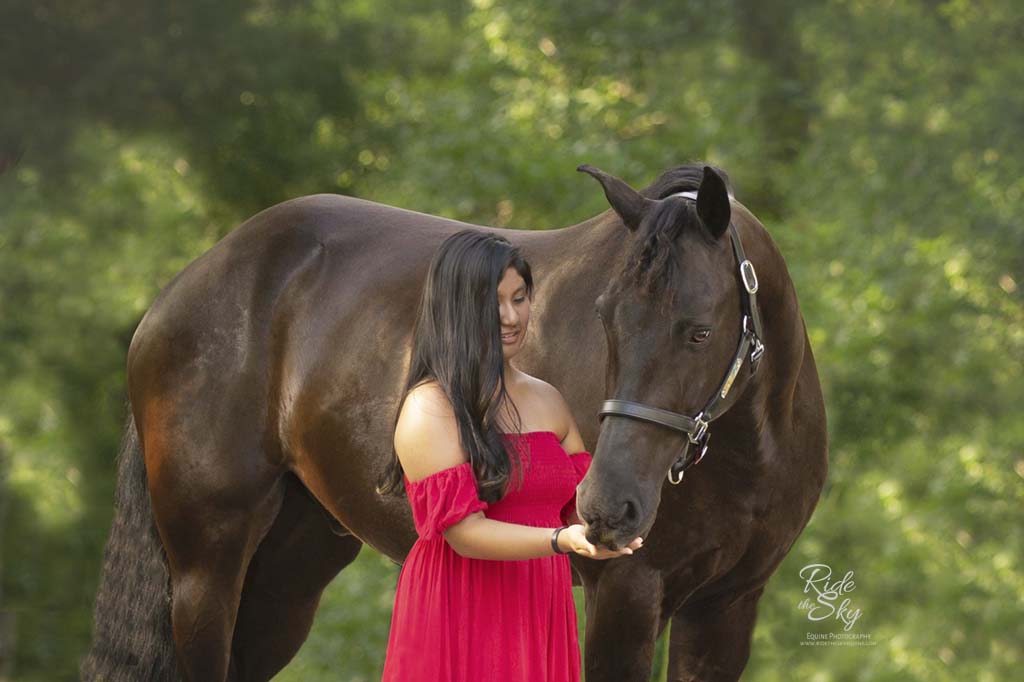 Tip 4: Show off who you are
If you or your horse are uncomfortable, it shows in the pictures.
To capture the best pictures, it's important to be comfortable. Wear clothes that aren't itchy and scratchy. Wear something that is your style. After all, your senior pictures should reflect the best version of you.
Years from now, when you look back at your equestrian senior portraits, you want to make sure that it looks like the best
Tip 5: Show your Spirit
Don't be afraid to show off your school spirit – be it the high school you are leaving…or the college you are heading to!
Have a favorite sport that you want to incorporate? Bring your jersey or letterman jacket, sports balls, specialty shoes, band instruments, or even medals or trophies.
There are so many ways we can incorporate props into your shoot with your horse.
Betsy Bird of Ride the Sky Equine Photography spends her days doing insane things to make horses look at her. Clearly, she's desperate for attention. Outside of acting like a total weirdo, she invests time and energy into growing her business, hanging with her favorite dog, Nitro, dealing with her teenagers' angst, and planning her next big wheels-up adventure. Betsy is a Certified Professional Photographer (CPP) with the organization Professional Photographers of America (PPA). The CPP designation is held by fewer than 2,500 photographers nationwide and is a hallmark of consistency, technical skill, artistry, and professionalism. Betsy specializes in creating storytelling magical photography for horse girls of all ages. In other words, she enjoys working with fun-spirited clients who need horse portrait photography, equestrian senior photography, and equestrian brand photography. She even throws in some dogs for variety because what true horse girl doesn't love a great pup too? Based in Chattanooga, TN, Ride the Sky Equine Photography works on location in Tennessee, North Georgia, and beyond.