Are you considering branding your horse business? Or maybe you need to refresh your equestrian business brand.
Either way, let's talk about how why you need to build a brand identity for a horse business.
Horse Brands
Have you ever thought about why mustang horses have brands?
I was reading an article in Cowgirl Magazine that broke down how to read a mustang brand the other day.
The first two numbers represent the horse's birth year. The last six numbers tell you the state and the herd management area that the mustang came from. 
Ranchers also brand their livestock.
It shows at a glance who that animal belongs to in cases fences break or herds intermingle. It also stops people from stealing animals as it's quite obvious who that animal belongs to.
Each brand is unique to that particular rancher. It tells people at a glance all about that animal and to what herd they belong.
The point is that when it comes to branding animals, the brand tells you everything you need to know.
It tells you when it was born, where it came from, and all the unique identifiers of that horse.
Branding Horses vs Branding a Horse Business
It got me thinking about the branding of animals vs. the branding of horse businesses.
Yes, I gotta be honest,  my little marketing heart skipped a beat. I can go down some deep dives when it comes to marketing and branding of businesses.
Consider your horse business brand like an actual horse brand.
If you are running a horse business by yourself, you are probably thinking, "I've slapped my logo on my Facebook page!"
I'm a branding genius! Branding, done! *Pats self on the back*
After all, horse business owners work so hard in the day-to-day of the business. Who has time to work ON their business too?
But the reality is that a logo or a facebook page is just one tiny part of an actual branding strategy.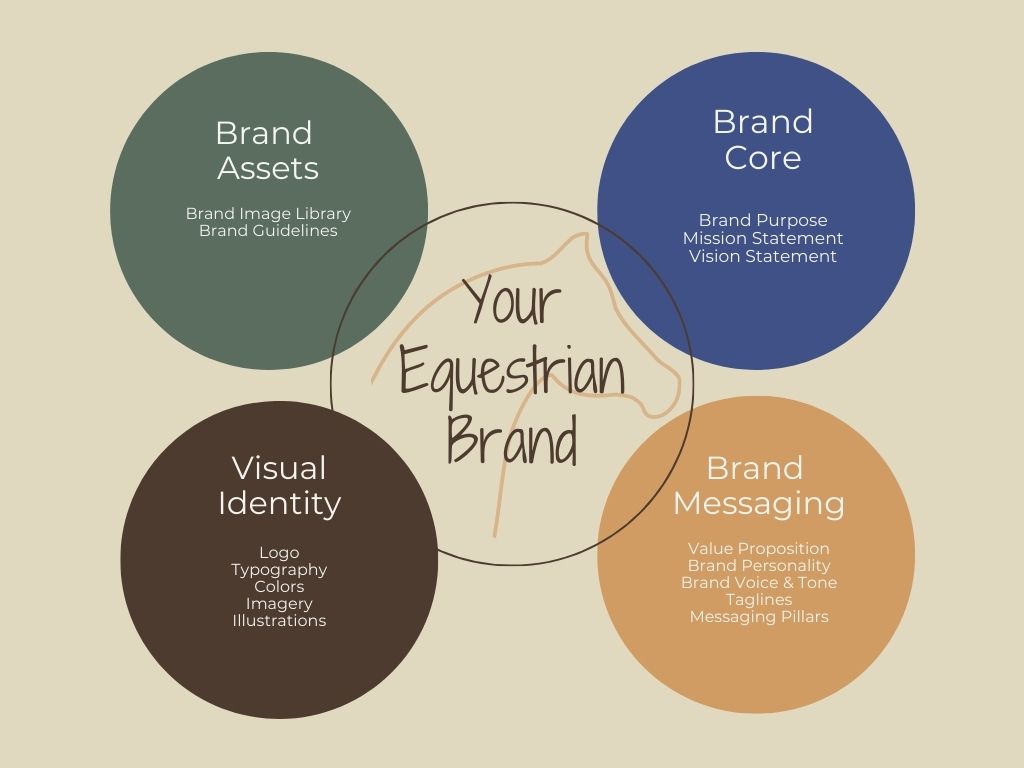 The horse business brand represents your business in a visual form. It's the values, mission, and quality of your equine business.
It tells people all about your business without you having to say a word (that part comes later)!
Branding is much more than a logo. It is a visual representation of the feelings you want your ideal clients to feel when they think of your brand.
A well-branded equine business will stand out in a market filled with unbranded fly-by-the-seat-of-your-breeches horse businesses.
After all, a properly branded business tells people that it's an established business. It has credibility. And you take your business seriously.
It shows pride in your business, and a commitment to grow your business.
It's time for you to find that ideal herd who really, really, really, wants to talk to you. Wants to buy from you.
A well-branded equine business will stand out in a market filled with unbranded fly-by-the-seat-of-your-breeches horse businesses.
A quick caveat about branding and marketing
Marketing and Branding are often confused as being the same thing. They actually work in concert with each other.
Equestrian Branding identifies you, your horse product, and your equine services.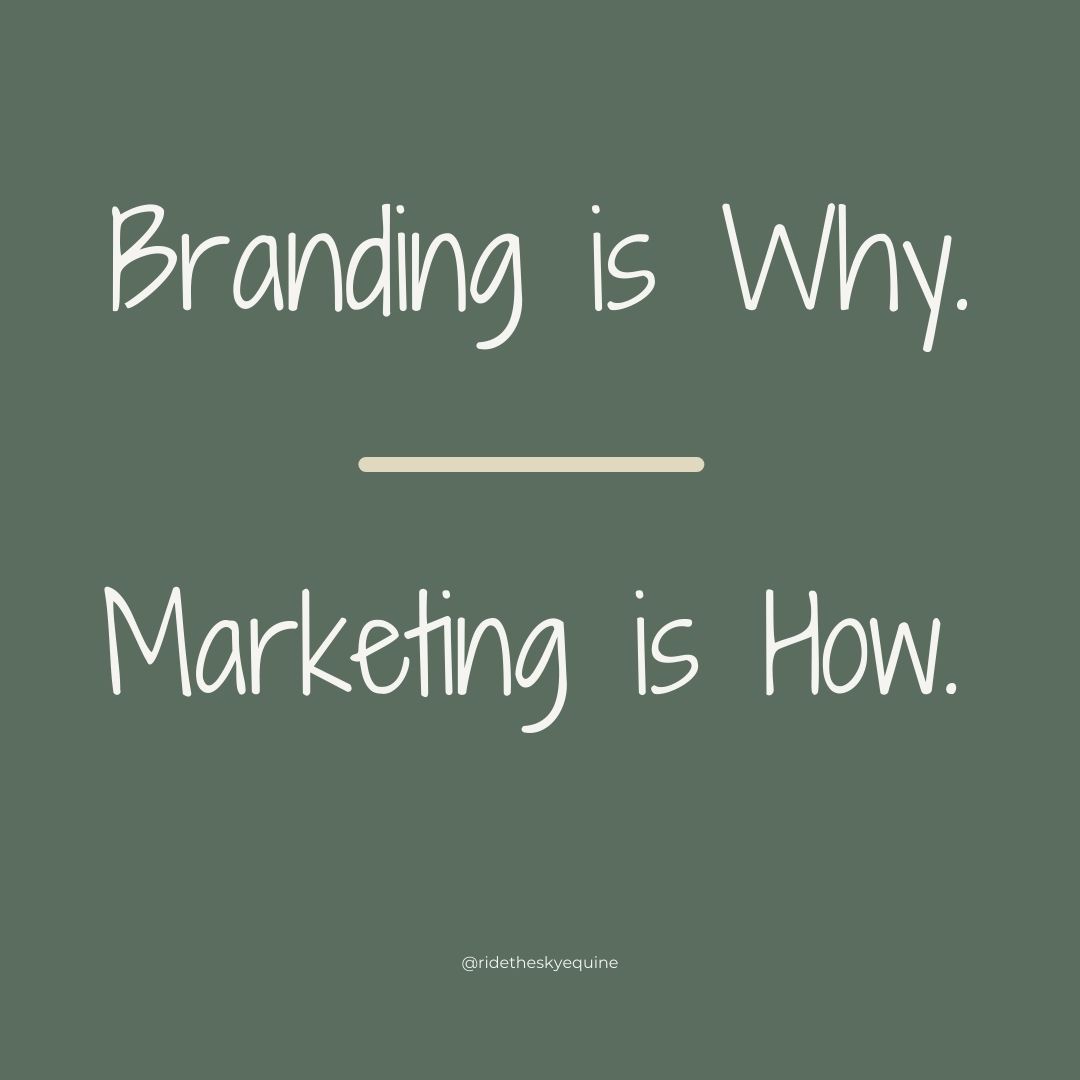 Equestrian marketing is the act of promoting you, your equine product, or horse services.
See the difference?
Good marketing may get you hired to perform bodywork on a horse.
But good branding will make them not only continue to hire you for more bodywork but also be a die-hard raving fan of your services.
And what do die-hard raving fans do? Why tell others like them of course…
Why You Need to Build a Brand Identity for a Horse Business
It's easy to see why branding matters when looking at global brands like Ariat or Wrangler.
After all, they are talking to hundreds of thousands, if not millions, of people. They definitely need to attract their ideal clients.
While they both appeal to horse people, they communicate completely differently.
Wrangler is rugged, durable products that appeal to the cowgirl or ranch disciplines.
Ariat speaks to high-end products in many disciplines.
The same idea holds true for any small horse business.
You might be a one-woman show but the branding for your business is as important. In fact, the personality of your business may be even more important.  After all, you are your business!
Creating a Brand Identity for your Horse Business
First of all what the heck is a brand identity?
And why do you need a brand identity for a horse business?
A brand identity is how you want people to feel about your business when they learn things about it.
Brand identity includes things such as the brand mission, vision, values, personality, voice, unique value proposition, and SWOT analysis.
Yeah, I know, that was a lot of fancy terms to throw at you.  Take a deep breath. I swear It's not as complicated as it sounds.
Over the next several blog posts, we will be breaking down what all this is, why it's important, and how you can use it to supercharge your business. 
Stay tuned!
Download your free Brand Values List
Want to start thinking about what brand values might apply to your business?
Click the button below to download the list of 194 brand values!
Betsy Bird of Ride the Sky Equine Photography spends her days doing insane things to make horses look at her. Clearly, she's desperate for attention. Outside of acting like a total weirdo, she invests time and energy into growing her business, hanging with her favorite dog, Nitro, dealing with her teenagers' angst, and planning her next big wheels-up adventure. Betsy is a Certified Professional Photographer (CPP) with the organization Professional Photographers of America (PPA). The CPP designation is held by fewer than 2,500 photographers nationwide and is a hallmark of consistency, technical skill, artistry, and professionalism. Betsy specializes in creating storytelling magic for horse girls of all ages. In other words, she enjoys working with fun-spirited clients who need horse portraits, equestrian senior, and equestrian brand photography. She even throws in some dogs for variety because what true horse girl doesn't love a great pup too? Based in Chattanooga, TN, Ride the Sky Equine Photography works on location in Tennessee, North Georgia, and beyond.