When it comes to building your equestrian brand, you are going to start with the brand core. That includes your brand mission statement, vision statement, and brand values. So, how do you go about creating a mission statement for a horse business?
Your brand mission is a statement that explains why you are in business.
Consider it the who, what, why, and how of your business.
What you currently do, who you do it for, how you do it, and what it achieves.
A brand mission statement doesn't have to be super complicated. In fact, in some cases, your mission statement can just be a couple of words. 
Take a look at Ted Talks.  Their mission statement is literally "Spread Ideas". 
Google's mission statement is "To organize the world's information and make it universally accessible and useful."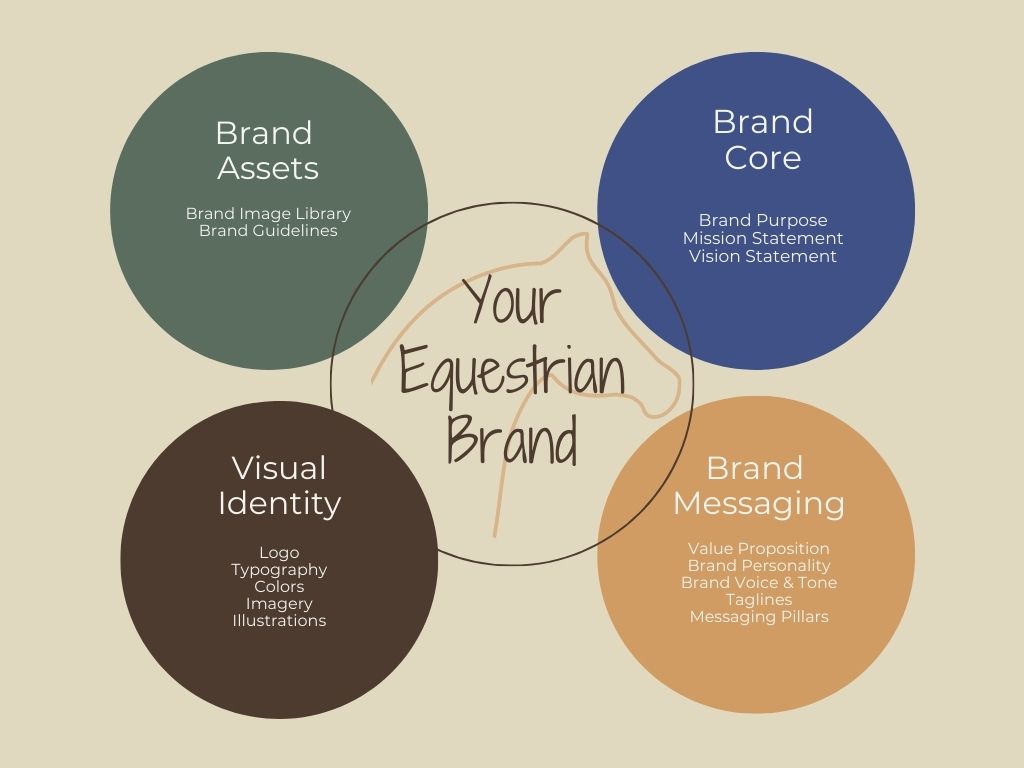 Mission Statements for Horse Businesses
Let's talk a look at some of the mission statements that are out there in the Equestrian World.  
US Equestrian Mission Statement: "To provide access to and increase participation in equestrian sports at all levels by ensuring fairness, safety, and enjoyment."
AQHA Mission Statement: "To record and preserve the pedigree of the American Quarter Horse while maintaining the integrity of the breed and welfare of its horses"
US Dressage Federation: "Dedicated to education, recognition of achievement, and promotion of dressage."
North Carolina Therapeutic Riding Center: "To empower children and adults with physical, mental, emotional, and social challenges to create more active, healthy, and fulfilling lives through equine-assisted activities and therapies."
A mission statement is simply the who, what, why, and how of your business.
How to Create Mission Statements for Horse Businesses
So how does this translate to a solopreneur or small horse business? Here are a couple of examples:
"To create enthusiastic new equestrians through a top-notch lesson program"
"To help equestrians keep their horses in peak condition through excellent bodywork"
It's important to remember that a mission statement doesn't have to be complicated.
In fact, creating a mission statement for your horse business comes down to using a plug-and-play formula.
At [business name], it's our mission to help[target clients] to do/achieve/reach/eliminate/reduce [pain point] by providing [beneficial outcome].
Say what?
Here's an example of how that works in the real world.
"At ABC Equestrian, it's our mission to help new equestrians achieve solid foundational riding skills by providing horseback riding lessons in a fun and educational environment.
Or,
At Sarah's Organic Horsey Treats, it's our mission to help environmentally conscious horse owners keep their horses and the planet healthy by providing organic treats in biodegradable packaging.
What's your Business?
Horseback Riding Lesson Program

Equine Bodyworker

A farrier

An equine chiropractor

A boarding barn
Equine veterinarian
Saddle fitter
Tack sales
Horse product sales

An equestrian clothing brand
Who is your target client? Be specific.
Equestrians

Environmental-conscious horse owners

Boarding barn managers
Prospective horse riders

Arabian horse owners

Women who love the equestrian lifestyle
Anxious horse owners

Western riders

Eventers

Parents of high school equestrians

40-year-old women who are just learning to ride
What problem or pain point are you helping with?
To improve their equestrian knowledge

To better their foundational riding skills

To reduce the odds of them falling off their horses

To provide a safe home for their horse
To save money on repeat purchases of specific horse products

To reduce time spent cleaning up the barn

To eliminate stress when preparing for a horse show
What is the Beneficial Outcome? How do you solve the problem?
By providing one-on-one equine bodywork

By having a well-maintained and well-run boarding facility
By providing a combination of online and in-person lessons on a variety of equine topics
By providing high-quality horse products that work

By providing specialized hoof care for problem hooves

By teaching weekly lessons in a fun environment
Let it Marinate
As you can see, this formula can work for any horse business or brand from an equine product to a horse service. And it doesn't matter if the business has one employee or 2500 employees.
So, if you haven't already, take the time to write out your equestrian brand's mission statement.
Again, it's a plug-and-play formula.
When it comes to writing mission statements for horse businesses, it's important that you let it marinate for a few days.
So, once you have the basics down, leave it alone for a day or two.
Then come back and look at it again. You may find that you need to tweak it to better fit your brand.
The more you can drill down on who you are serving and how you are solving their problems, the more you crystalize exactly who your ideal clients are and what you are saying to them.
Betsy Bird of Ride the Sky Equine Photography spends her days doing insane things to make horses look at her. Clearly, she's desperate for attention. Outside of acting like a total weirdo, she invests time and energy into growing her business, hanging with her favorite dog, Nitro, dealing with her teenagers' angst, and planning her next big wheels-up adventure. Betsy is a Certified Professional Photographer (CPP) with the organization Professional Photographers of America (PPA). The CPP designation is held by fewer than 2,500 photographers nationwide and is a hallmark of consistency, technical skill, artistry, and professionalism. Betsy specializes in creating storytelling magic for horse girls of all ages. In other words, she enjoys working with fun-spirited clients who need horse portrait, equestrian senior, and equestrian brand photography. She even throws in some dogs for variety because what true horse girl doesn't love a great pup too. Based in Chattanooga, TN, Ride the Sky Equine Photography works on location in Tennessee, North Georgia, and beyond.