Are you drawing a blank on how to write a value proposition for a horse business? Or for that matter what exactly a value proposition is?
If you are like most equestrian small business owners, you are probably thinking, "a value…what?"
A value proposition is simply answering this question:
"When it comes to your equestrian small business, how do you stand out from the crowd?"
Let's say you run a boarding barn. What makes boarding with you better or different than boarding with the barn down the road?
Perhaps you are an equine bodyworker. What makes a horse owner want to use your services instead of another equine bodyworker?
You design an equestrian clothing brand. Why should I buy your breeches and polos instead of the equestrian clothing brand on the next rack?
You manufacture equine grooming products. Why should I buy your products for my horse instead of a different one?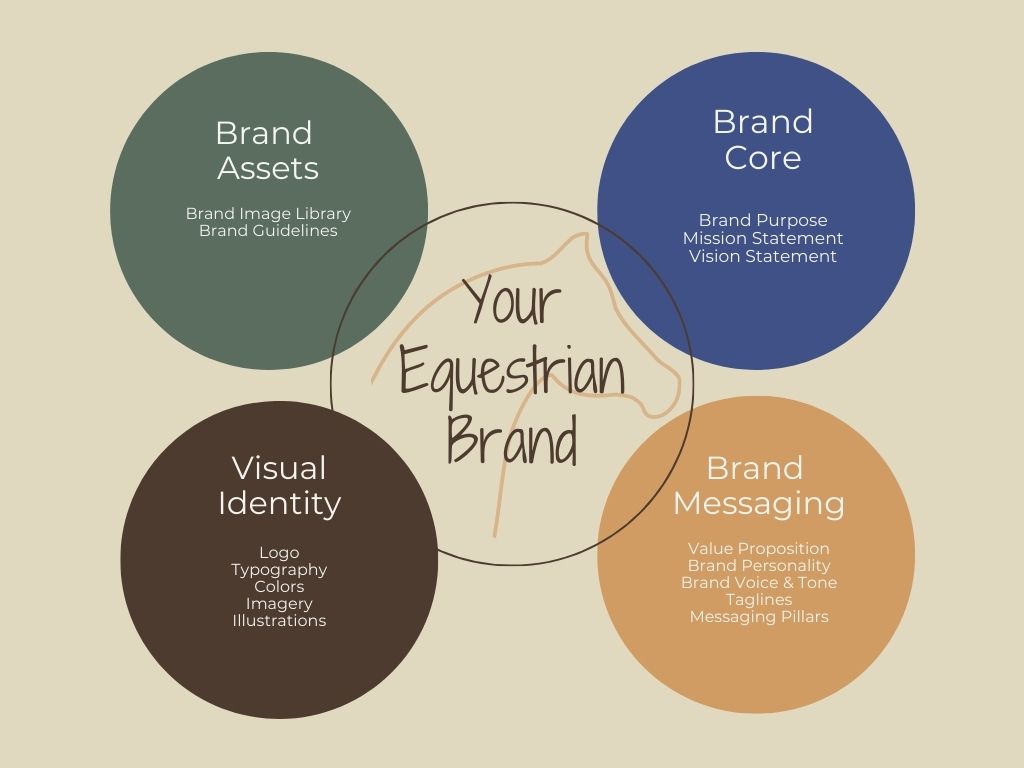 It doesn't matter if you are a large equine business or a one-woman horse business.
It doesn't matter if you provide a horse product.
Or if you provide an equine service.
That which makes you unique is what's going to help you stand out in your market.
It's what's going to help make your brand shine and stand out from the noise in your market. 
What is a Value Proposition?
A value proposition is sometimes referred to as a unique selling proposition (USP).
A value proposition is a statement that describes what makes you different from your competition. Basically why are you valuable and what makes you better than the rest.
Why does someone what to do business with you instead of a competitor?
Write a list of what makes you stand out in your market. Here are some ideas to get your brain flowing.
That which makes you unique is what's going to help you stand out in your market.
Dos & Don'ts of Value Propositions for Horse Businesses
Do:
Be concise and clear. Short, sweet, and to the point.
Use the language of your target audience
Explain what sets you apart / makes you unique in your market
What benefit they can expect
Don't:
Exaggerate the truth
Use language that your customer doesn't "get"
How to Write a Value Proposition for a Horse Business
When it comes to writing a value proposition for your horse business, it's really just a plug-and-play formula.
We help [target client] to [benefit] by [what you do].
So let's show some examples of how that works.
We help anxious horse owners to sleep well at night by caring for their horses the same way they would.
We help senior horse owners to keep their horses feeling their best by providing bodywork customized to a horse's individualized needs.
We help frustrated horse owners to protect their horses from the weather by repairing, washing, and waterproofing their horse blankets all in one location.
We help new horse owners to understand their horse's behavior by providing entertaining and educational online horse behavior content available on demand.
Equestrian Examples of Unique Identifiers
So, maybe you don't know what makes you unique. Especially if you have never done an analysis of your market competition. If that's you, stop here and do some research into your competition. 
After all, how can you know what makes you unique if you don't know what else is out there? 
Boarding Barn:
Provide a covered arena and outdoor arena both with lights so clients can ride no matter what time of day

Live onsite and provide daily checkups on all the horses personally

Have an eventing course set up for practice

Test your hay and work with a nutritionist before any horse in your care touches it

Have extensive experience caring for horses who are rehabbing from injuries

Specialize in hunter/jumpers
Horseback Riding Lesson Program:
Offer free riding lessons to a local charitable organization

Teach riding lessons to kids only under the age of 10

Have an easy scheduling program for lessons

Provide fun shows for your clients

Have a program that offers both on- and off-horse learning

Provide Horse Camps during weeks that school is out
Equine Bodyworker:
Extensive experience providing bodywork for off-the-track Thoroughbreds

Have appointments available in the evenings and weekends

Extensive experience with senior horses

Provide sessions to people or dogs as well as horses
Horse Trainer:
Have extensive experience in training mustangs

Apprenticed under a well-known, high-quality trainer

Have certification or specialized training
Farrier or Barefoot Trimmer:
Study nutrition and how it can help horses with problem hooves

Have certification or specialized training

Works specifically with a certain breed or type of horse
Some Other Ideas:
Use only organic farm products

Have extensive experience writing about equestrian and horse topics

Only use top-of-the-line products when waterproofing horse blankets

Host Horse Clinics on a variety of topics
Keep This in Mind about Value Propositions
Here are a few things you might want to keep in mind when developing a value proposition for a horse business.
First, your value proposition can change as your business grows.
So, while it's tempting to "set it and forget it", it's a good idea to review your value proposition occasionally.
Betsy Bird of Ride the Sky Equine Photography spends her days doing insane things to make horses look at her. Clearly, she's desperate for attention. Outside of acting like a total weirdo, she invests time and energy into growing her business, hanging with her favorite dog, Nitro, dealing with her teenagers' angst, and planning her next big wheels-up adventure. Betsy is a Certified Professional Photographer (CPP) with the organization Professional Photographers of America (PPA). The CPP designation is held by fewer than 2,500 photographers nationwide and is a hallmark of consistency, technical skill, artistry, and professionalism. Betsy specializes in creating storytelling magic for horse girls of all ages. In other words, she enjoys working with fun-spirited clients who need horse portraits, equestrian senior, and equestrian brand photography. She even throws in some dogs for variety because what true horse girl doesn't love a great pup too? Based in Chattanooga, TN, Ride the Sky Equine Photography works on location in Tennessee, North Georgia, and beyond.